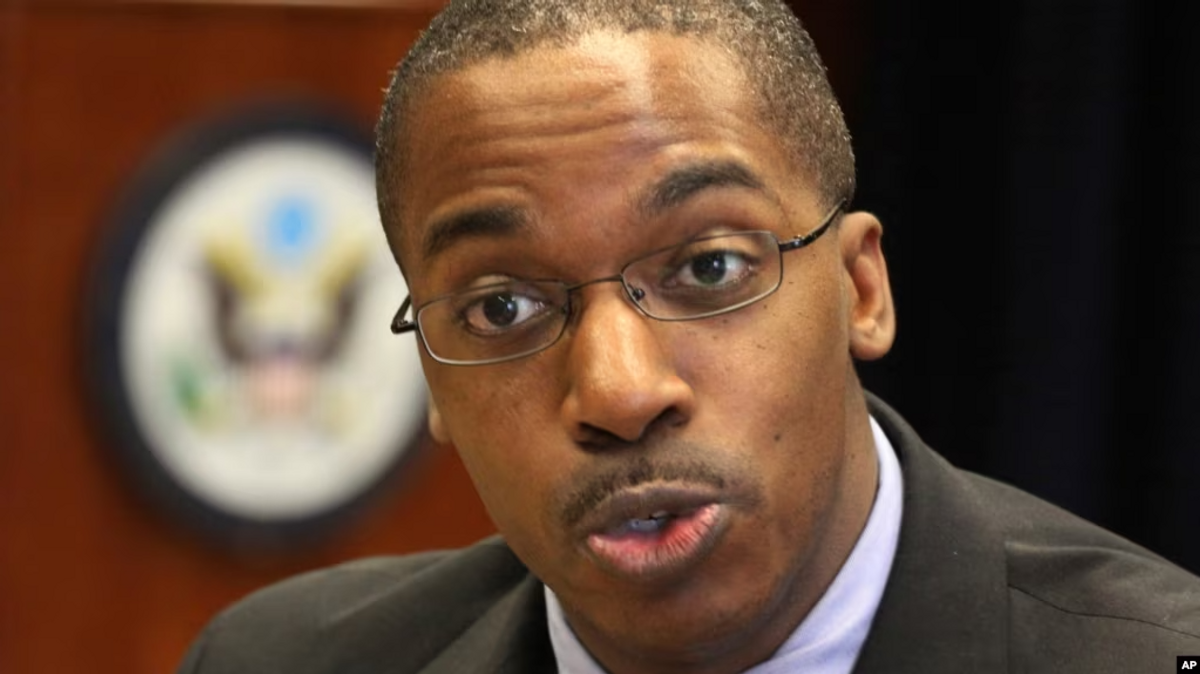 South Africa Summons US Ambassador Over Russia Weapons Row
JOHANNESBURG, SOUTH AFRICA —
A war of words is brewing between the U.S. and South Africa after the U.S. ambassador to the country said he would "bet his life" on U.S. intelligence that South African weapons were loaded onto a Russian vessel when it docked at a Cape Town naval base in December. The South African government hit back, saying that while it would investigate the matter, the U.S. ambassador's remarks had "undermined" the relationship between the two nations.
Pretoria summoned U.S. Ambassador Reuben Brigety on Friday, amid a diplomatic spat that has put relations between the two friendly nations at their lowest ebb in years.
The demarche was issued after Brigety's extraordinarily strident comments to South African media on Thursday in which he said the U.S. had observed South African weapons being loaded onto a Russian vessel, the "Lady R," which docked at the port of Simon's Town in Cape Town between December 6 and December 8 last year.
He said it showed South Africa was not neutral on the Ukraine conflict as Pretoria has always claimed.
"The arming of Russia, by South Africa, with the vessel that landed in Simon's Town, is fundamentally unacceptable," he said. "We are confident that weapons were loaded onto that vessel, and I would bet my life on the accuracy of that assertion."
The South African government seemed caught by surprise by the ambassador's comments, responding hours later that they were setting up an independent investigation into the matter led by a retired judge.
But Vincent Magwenya, a spokesman for President Cyril Ramaphosa also hit back at Brigety's remarks, saying the U.S. and South Africa had already discussed the matter privately.
"It is, therefore, disappointing that the U.S. ambassador has adopted a counter-productive public posture that undermines the understanding reached on the matter," Magwenya said.
A spokesman for the Department of International Relations and Cooperation said Friday that minister Naledi Pandor would also be speaking to her U.S. counterpart, Secretary of State Antony Blinken.
However, Kobus Marais, shadow defense minister for South Africa's main opposition Democratic Alliance said the U.S. accusations were "deeply concerning."
"If these allegations are indeed true it would be a gross violation of South Africa's international obligations and a betrayal of the trust of our most important trade and investment allies," Marais said.
There have long been questions surrounding why the ship docked in Cape Town last year.
Despite western efforts to get Pretoria's support for Kiev since the Russian invasion
began last year, the South African government has maintained friendly relations with Moscow.
The country's foreign minister held bilateral talks with Russian Foreign Minister Sergey
Lavrov earlier this year and – despite U.S. consternation – hosted Russian war ships in February for joint military exercises.
Steven Gruzd, a Russia expert at the South African Institute of International Affairs, told VOA that Pretoria could face economic fallout from its stance.
"South Africa is jeopardizing its access to the American market through something like the African Growth and Opportunity Act, those privileges would be revoked and then there would be real economic costs," he said.
South Africa also has invited Russian President Vladimir Putin to attend a summit in the country in August, despite the fact there's an arrest warrant out for him by the International Criminal Court and Pretoria is a signatory to the court.
If he shows up, South Africa is legally obliged to arrest him. This has led to calls by some within the ruling party to look into restructuring the agreement with the ICC.
https://www.voanews.com/a/south-africa-summons-us-ambassador-over-russia-weapons-row/7090497.html