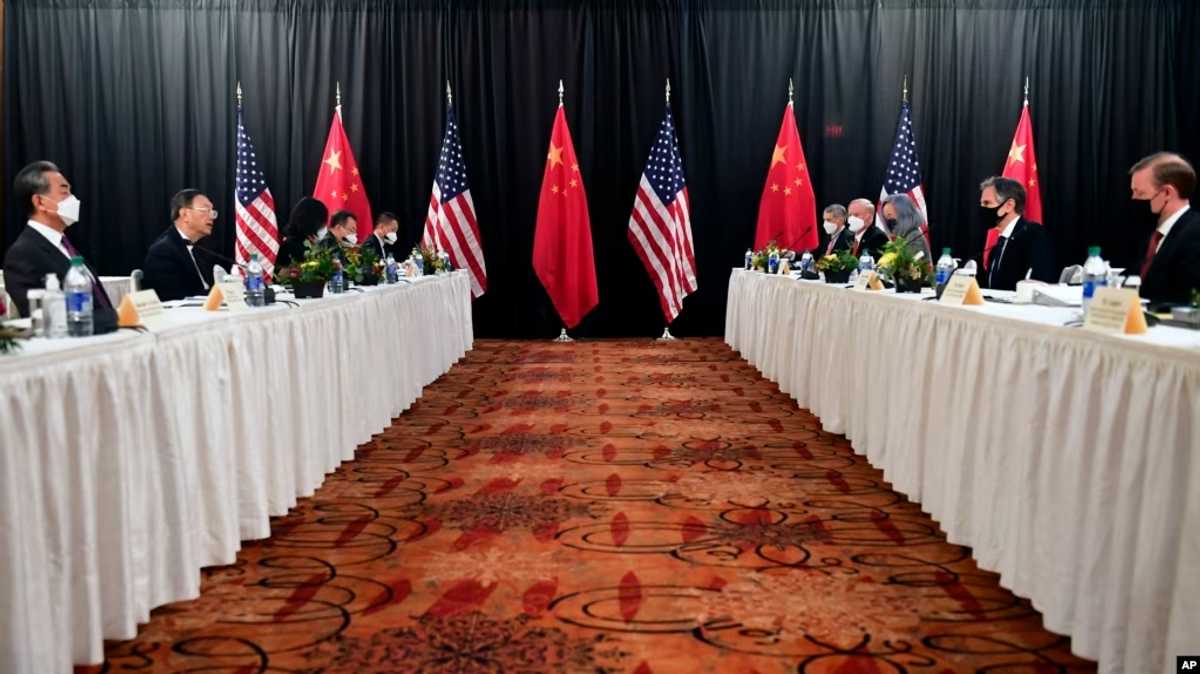 Senior White House Official Meets With China's Top Diplomat in Europe
STATE DEPARTMENT —
U.S. officials say White House National Security Adviser Jake Sullivan and his Chinese counterpart, Wang Yi, held discussions in Vienna from May 10-11th. The meetings come as Washington and Beijing prepare for more in-person engagements between senior officials and as the U.S. seeks open lines of communication with China amid a strained relationship.
A senior administration official described the more than eight hours of meetings over two days as "really candid, substantive and constructive," covering issues including specific American detainees the U.S. said were unjustly held in China and transnational concerns such as narcotics, global and regional security issues, Russia's invasion of Ukraine, and Taiwan.
Both U.S. and Chinese officials have said there is a need to stabilize fraught relations between the world's two largest economies. Ties that have been increasingly strained in recent months over security, trade and technology issues, Taiwan and the South China Sea.
After the U.S. military shot down a Chinese spy balloon that drifted over the continental United State in February, Secretary of State Antony Blinken postponed a planned trip to Beijing.
Last week, Blinken said he was hopeful that it could be rescheduled this year.
"Both sides recognized that that unfortunate incident led to a bit of pause in engagement. We're seeking now to [move] beyond that, and reestablish some standard channel communications," the senior official said when asked by VOA during a phone briefing on Thursday.
The senior official added that both the U.S. and China "do anticipate" there will be more engagements and visits "in both directions over the coming months."
Meanwhile, Chinese Minister of Commerce Wang Wentao plans to hold talks with U.S. Commerce Secretary Gina Raimondo in Washington next week, according to the diplomatic source.
On Thursday, U.S. Ambassador to China Nicholas Burns met with Wang for the first time.
"We had an open and detailed discussion about the bilateral trade relationship," Burns said in a tweet. "I stressed the need for fair and equitable treatment of American businesses in China."
On Wednesday, Blinken said the United States has "concerns" about the treatment of American companies under China's new counterespionage law.
Several firms were raided recently by Chinese police in the name of national security, including consulting firm Capvision and corporate due diligence firm Mintz Group.
"It's something that we talk to the Chinese about," said Blinken during a joint press conference with Spanish Foreign Minister José Manuel Albares.
"China wants to have a positive business environment that attracts foreign investment" but "the actions that it takes with regard to those businesses will have a big impact," Blinken added.
Bloomberg has reported that Wang and U.S. Trade Representative Katherine Tai are likely to meet in person on the sidelines of the Asia Pacific Economic Cooperation ministerial meeting in Detroit later this month.
In June, U.S. Defense Secretary Lloyd Austin and China's new Minister of National Defense Li Shangfu are expected to attend the Shangri-La Dialogue, a high-level Asia security summit in Singapore. The Chinese military has not accepted the U.S. proposal for a meeting between their defense chiefs on the margins of this annual gathering.
In a tweet, Burns said he discussed "the necessity of stabilizing ties and expanding high-level communication" in a meeting with Chinese Foreign Minister Qin Gang on Monday.
Qin asked the U.S. to "correct" its handling of Taiwan in that meeting, which was seen as China's precondition as Washington and Beijing seek to resume high-level engagements.
On Thursday, Sullivan reiterated the U.S. position to Wang that the U.S. remains committed to its "One China" policy, guided by the Taiwan Relations Act, three communiques and six assurances.
"He indicated that the U.S. opposes unilateral changes to the status quo from either side, does not support Taiwan independence and expects the cross-strait differences to be resolved by peaceful means," according to the senior official.
VOA's Patsy Widakuswara contributed to this report.
https://www.voanews.com/a/senior-white-house-official-meets-with-china-s-top-diplomat-in-europe/7088545.html