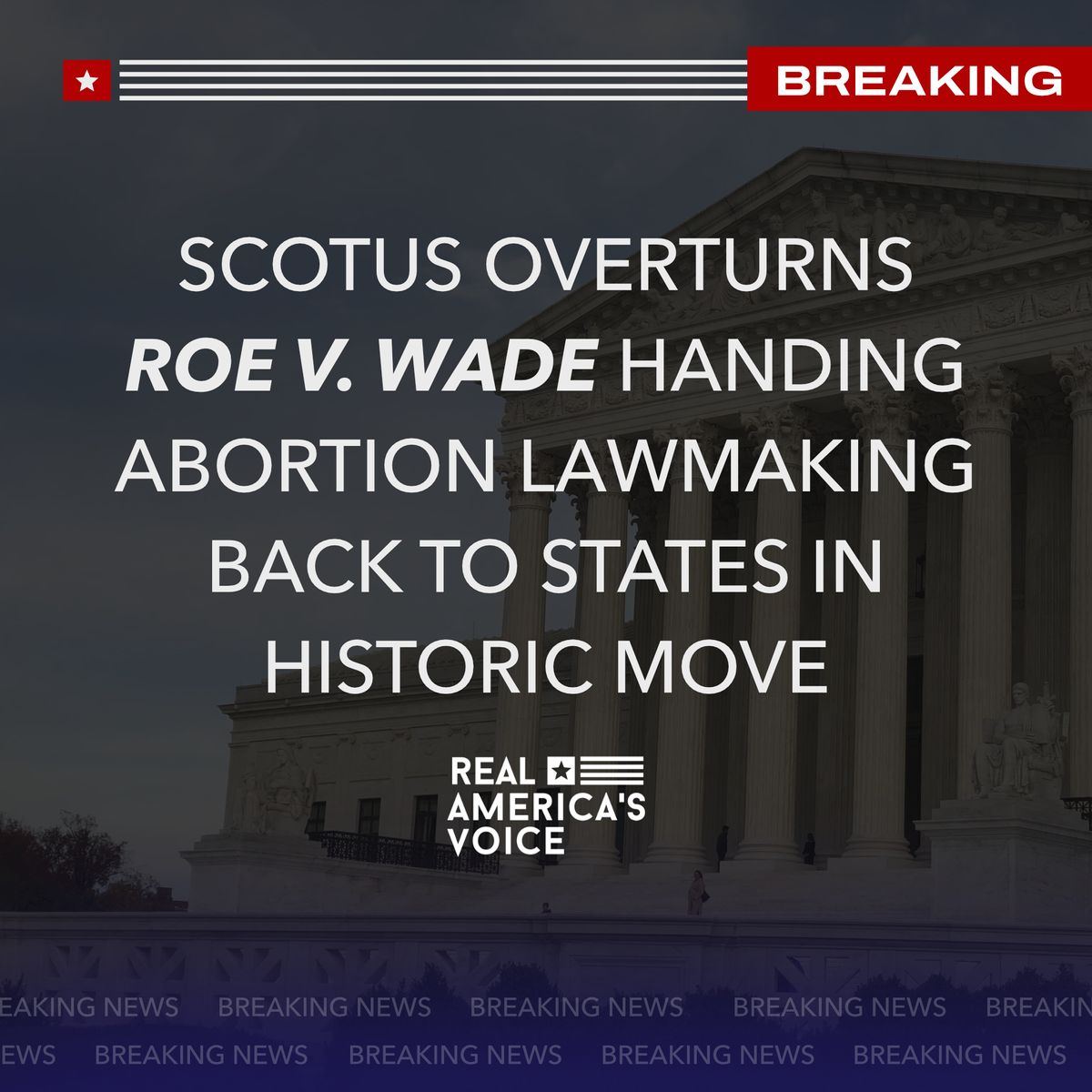 SCOTUS Overturns Roe v. Wade
As anticipated, after an unprecedented Supreme Court leak, the highest court has overturned Roe v. Wade in a 6-3 decision.
This decision concedes that abortion is not a Constitutional right and returns the decision to the states. Justice Samuel Alito wrote: "The Constitution does not confer a right to abortion; Roe and Casey are overruled, and the authority to regulate abortion is returned to the people and their elected representatives."
The ruling allows a Mississippi law that was passed banning abortions after 15 weeks — to take effect. In Dobbs v. Jackson Women's Health Organization, the ruling means each state will now be able to determine its own abortion regulations.
"We end this opinion where we began. Abortion presents a profound moral question. The Constitution does not prohibit the citizens of each State from regulating or prohibiting abortion. Roe and Casey arrogated that authority. We now overrule those decisions and return that authority to the people and their elected representatives," Justice Samuel Alito also wrote in the court's opinion.
One of the core debates on the abortion issue is the timeline of fetal viability. Alito's opinion opened with consideration and criticism of Roe v. Wade and its stance that while states have "a legitimate interest in protecting 'potential life,''' this interest was not enough to prohibit abortions before the time of "fetal viability", at the time believed to be about 23 weeks into a pregnancy.
"The Court did not explain the basis for this line, and even abortion supporters have found it hard to defend Roe's reasoning," Alito wrote.
Chief Justice John Roberts agreed that the viability line "never made any sense." He added, however, that rather than overturn Roe v. Wade, he would have continued to recognize the right to get an abortion, and that the right should "extend far enough to ensure a reasonable opportunity to choose but need not extend any further."
Since the leak of the draft opinion in February, the country has seen Pro-Choice activists outside the homes of six conservative justices, a federal crime, for which protesters have seen no consequences. Subsequently, a suspect was charged with attempted murder outside the home of Justice Kavanaugh, admittedly armed and prepared to assassinate the justice. Across the country, Catholic churches have been spray-painted and vandalized, and parishioners harassed during a Mother's Day service, also a crime that has seen no admonishment. Dozens of Pro-Life pregnancy centers were also vandalized and burned.
Pro-Life advocates have contended that the abortion restrictions debate is best suited for the states and see the overturn of Roe v. Wade as an equitable return of the issue to the states.
Currently, 13 Republican-led states have "trigger laws," effectively restricting abortion access as of the decision. Those states are Arkansas, Idaho, Kentucky, Louisiana, Mississippi, Missouri, Oklahoma, South Dakota, North Dakota, Tennessee, Texas, Utah, and Wyoming.
Pro-Choice activists will now have to work to codify Roe and pass legislation at the state level. New York state effectively codified Roe in 2018 by passing a bill and other blue states will likely follow suit.
President Biden, at the time a Senator, told Washingtonian magazine in 1974, that women did not have "the sole right to say what should happen" to their bodies and "I don't like the Supreme Court decision on abortion. I think it went too far." According to The New York Times, in 1982, Biden was singled out as one of only two Democrat lawmakers supporting a constitutional amendment that would allow states to overturn Roe v. Wade in order to pass their own laws regarding abortion. President Biden is expected to condemn the decision.
Even with the country headed into a recession, with gas prices at an all-time high, 2 million illegal immigrants dispersed in the dead of night across the nation, war raging in Ukraine, Taiwan under threat, stock market instability and dwindling 401k's, abortion is now more than likely going to be a major issue come mid-term elections.
Real Americas Voice News is outside the Supreme Court covering the protests and reporting live here ->
— Victoria Armstrong Norcross
#####
JOIN US ON RUMBLE LIVE NOW!