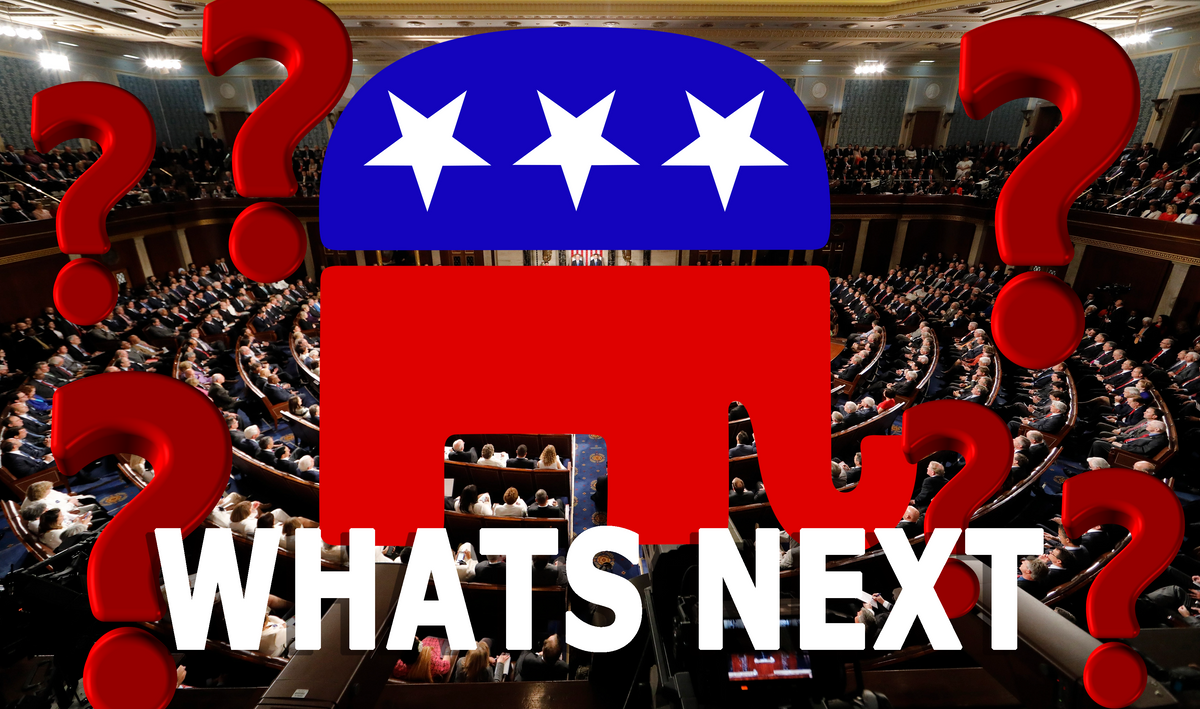 Republicans Will Win Big Tuesday; But Can They Capitalize On The Victory?
Will history repeat itself, or can the GOP perform?
In 1994, the Godzilla of radio Rush Limbaugh ruled the airwaves. He had just invested two-full years for 3-hours a day, five days a week, into bashing then-President Bill Clinton. The daily beatdowns resulted in the most significant mid-term swing in American history.
Then Speaker Newt Gingrich took control of the House of Representatives, and the Mississippi Senator Trent Lott (a far right-leaning Christian conservative) would become the Senate Majority Whip and later assume the role of Senate Majority Leader.
For the next several years, these two leaders would be consumed with criminal allegations against the Clintons over "Whitewater, the White House travel office, and Presidential Pardons." Then came Special Prosecutor Ken Starr, a lawsuit from Paula Jones, a White House Intern named Monica, nightly visits to the ABC News program Nightline by Democrat Operative James Carville, an Impeachment of the President, and a Senate trial.
The drama on Capitol Hill would ultimately take its toll, and the Republicans would lose back control to the Democrats.
When former President Barack Obama took office touting to "fundamentally change America," once again Rush Limbaugh began a crusade to stop the "liberalization" of our nation. Only this time, he was joined by other large radio audiences hosted by names such as Sean Hannity, Mark Levin, and other notables.
Between Obama's policies, radio encouragement, and the new Tea Party explosion, the GOP once again swept both Houses in 2010. Obama's popularity and health reform, plus the Republican's "go-along-get-along" attitude, once again caused the Republican power to be shortlived.
Today, we are witnessing something akin to 2010 with a few nuances. While we have no Rush, and people seem to listen to the AM radio less, we do have social media. The palpable fear Americans are feeling is that the brush fires of hysteria are rapidly turning into full-scale forest fires.
With inflation on the rise (and threatening to turn into hyper-inflation), a sinking stock market, diesel fuel shortages, an invasion on our Southern Border, a highly partisan Justice Department, wars in Europe, the rise of Chinese aggression, and the indoctrination of our children, Americans' across the board want this insanity stopped and stopped now.
Polling our citizens (from nearly every polling company) has the Republican House candidates sweeping to victory in almost record numbers. It does appear that Speaker Nancy Pelosi will be replaced with Republican Kevin McCarthy as the new Speaker of the House. The only remaining question is, "will the GOP retake the Senate?" Late polling in Pennsylvania, Georgia, and Nevada show that the Republicans might pull off a slim margin of victory in the Senate as well.
Assuming that the Grand Old Party does manage to celebrate with an overwhelming victory next Tuesday evening, what happens next?
The American voters have just sent a resoundingly clear message to the Republican Party.
And that message is;
We want our oil industry opened back up NOW!

We want our borders shut down NOW!

We want the bleeding of our resources being sent to Ukraine shut down NOW!

We want a complete investigation of the Biden Crime family investigated in Congress NOW, including Hunter Biden's laptop computer. This should also include indictments if corruption is found to be true.

We want this WOKE agenda in our school systems banned NOW!

Lastly and most likely one of the more critical items is we want legislation dealing with the hyperpartisanship of social media, and the mainstream media dealt with.
Suppose the GOP can immediately take charge, show leadership, and display that they are genuinely interested in turning this nation around. In that case, they will have set themselves up for a landslide victory in 2024 for the White House. This is in addition to picking up more seats in the House and Senate.
HOWEVER---If Senator Mitch McConnell and the new Speaker McCarthy continue in their ways of capitulation (from just trying to get along with the Democrats), our majorities will be shortlived.
Currently, the landscape of "low-hanging" political fruit is a bounty. The Republican Party will not get a better chance for dislodging this so-very-corrupted political party (meaning Democrats) in our lifetimes. The American people are disillusioned, beaten down, and financially devastated.
You never let a serious crisis go to waste. And what I mean by that it's an opportunity to do things you think you could not do before. Rahm Emanuel
If the Republicans can show leadership and immediately begin holding "Impeachment Hearings" for Attorney General Merrick Garland (his list of crimes is nearly endless), and if they can pull together legislation and send it to the President's desk for signature, then we will have capitalized on these opportunities, and our future looks bright.
With former President Trump's recent campaign activity for candidates being a barometer of how the American people feel, the old adage, "Third time is the charm," may just be applicable.
By Ken Crow
#####