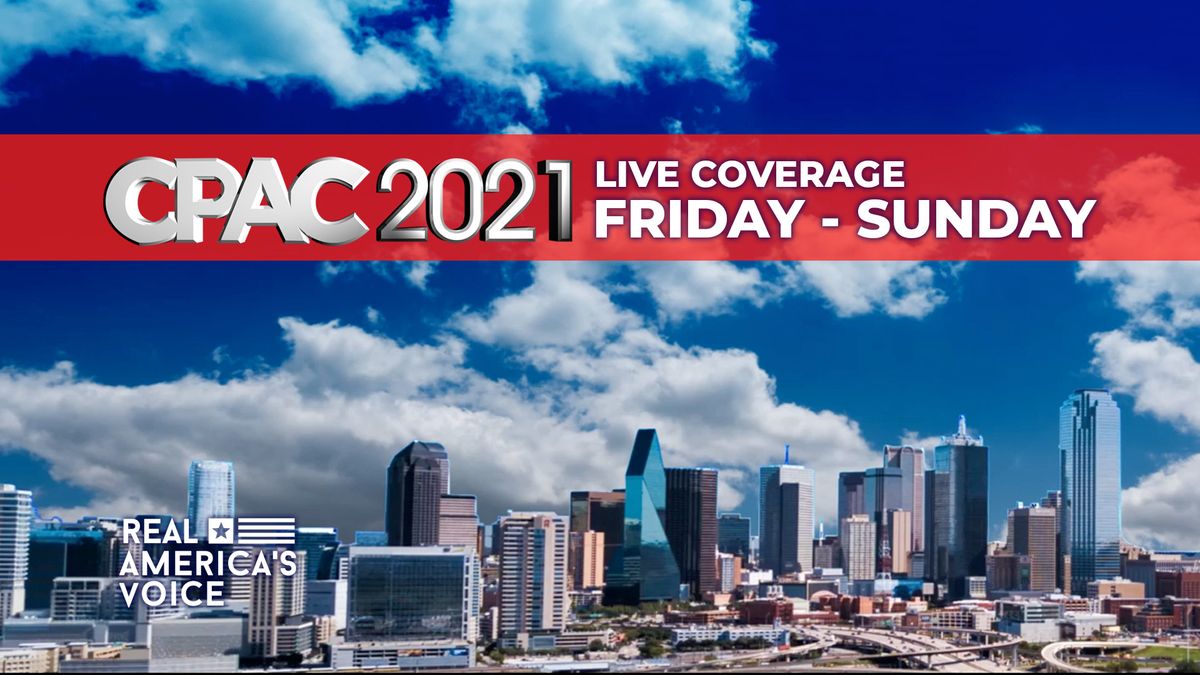 REAL AMERICA'S VOICE ANNOUNCES LIVE SPECIAL COVERAGE OF CPAC DALLAS
FOR IMMEDIATE RELEASE
Contact: Jillian Anderson
media@proactivecommunications.com
330-980-3053
REAL AMERICA'S VOICE ANNOUNCES LIVE SPECIAL COVERAGE OF CPAC DALLAS
Fast-growing news network to host live coverage of nation's largest conservative conference, re-air highlights in evenings
Centennial, CO/July 8, 2021 — Real America's Voice, the rapidly growing news network, announced today its plans to air live special coverage of CPAC, the Conservative Political Action Conference, in Dallas this weekend from Friday, July 9 through Sunday, July 11.
Live coverage of the nation's largest national gathering of conservatives will begin at 1:00 pm EDT/12:00 noon CDT daily starting on July 9.
Real America's Voice will be on site at the Hilton Anatole Hotel in Dallas to broadcast the network's live special coverage of the conference and connect with high profile speakers and conservative activists and newsmakers in attendance.
"Patriotic Americans everywhere are anxious to hear from their favorite conservative leaders at CPAC in Dallas and Real America's Voice is delighted to bring it to them with live special coverage all weekend long.," said Howard Diamond, CEO of Real America's Voice. "Nowhere else will viewers at home be able to capture the excitement of CPAC and real-time analysis from our hosts and expert commentators than on Real America's Voice."
The network, which recently broadcast an exclusive interview with President Trump, will also be airing the 45 th President's speech at the conference on Sunday, July 11 live in its entirety.
The network also announced special appearances at CPAC Dallas by Real America's Voice talent, including AV Live host Tudor Dixon who will be a guest speaker and correspondent Amanda Head who kicks off Saturday's conference agenda with a vocal performance of the National Anthem.
Real America's Voice coverage of CPAC 2021 in Dallas, Texas will re-air Friday, Saturday, and Sunday evenings. Watch the Real America's Voice promotional videos for the event HERE and HERE.
LIVE special team coverage of CPAC 2021 in Dallas begins Friday, July 9 at 1:00 pm EDT/12:00 noon CDT. Stream online at Real America's Voice or on DISH Ch. 219, Pluto TV Ch. 240, Samsung Plus TV Ch. 1029, SelectTV Ch. 106, Apple TV, Fire TV, and Roku.
ABOUT REAL AMERICA'S VOICE
Real America's Voice (RAV) delivers exciting live-event coverage seven days a week across a growing list of powerful content distribution channels. You can watch all Real America's Voice programming at http://realamericasvoice.com/ or by downloading the app on Apple or Android. Real America's Voice is also available on DISH Network, Apple TV, Amazon Fire TV, Pluto TV, Samsung TV Plus, SelectTV, and Roku.
#####