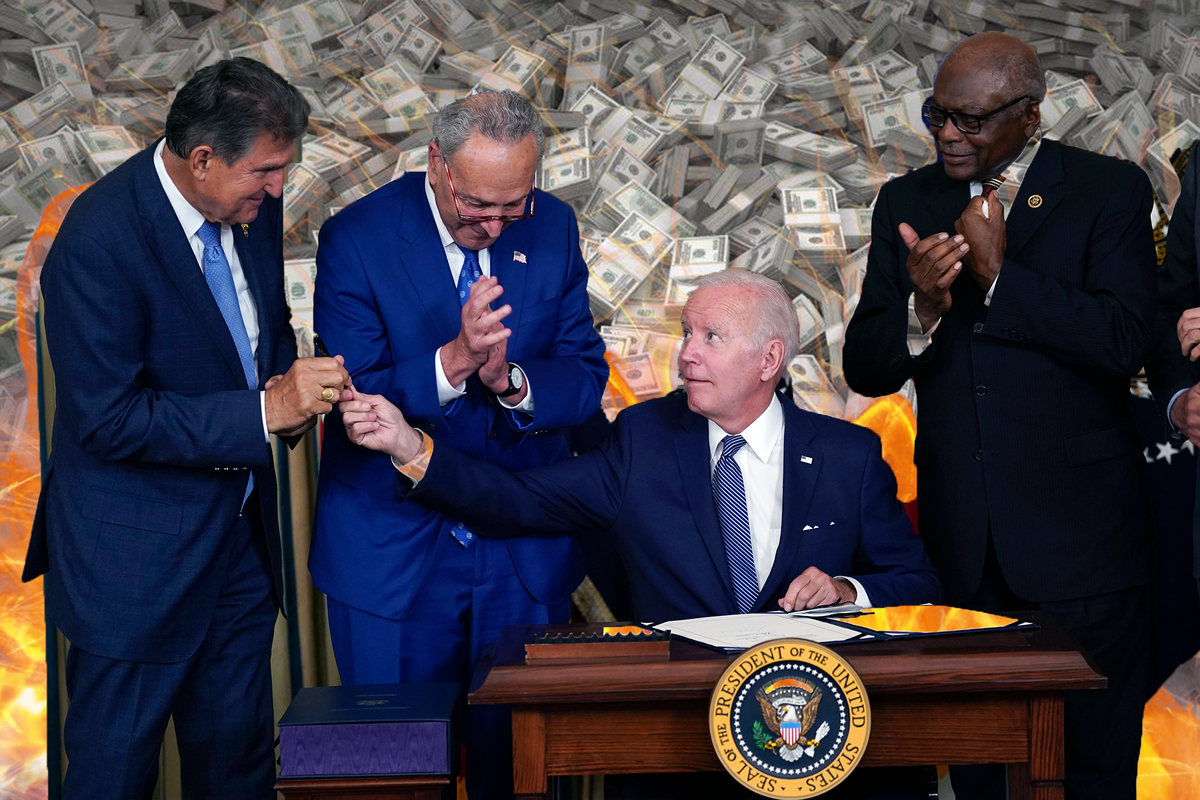 President Biden Signed Inflation Reduction Act into Law
The massive tax and spending bill, with a price tag of $739 Billion, was signed into law by President Biden, however, the Congressional Budget Office, Penn Wharton, and most economic experts agree that it will do nothing to reduce inflation.
What it will do is hire 87,000 new armed IRS agents, willing and able to use deadly force, according to the IRS's Special Agent job posting. The New York Giants may not have won a Super Bowl since 2011 but their Met Life stadium holds 82,500 sports fans, nonetheless still shy of being able to hold the new armed IRS task force. On the other hand, the Green Bay Packers, have won 13 league championships, the most in NFL history, and even Lambeau Field, doesn't have the capacity to hold all of the new IRS agents to be hired, seating only 81,441. Just imagine going to a Packers game and every single seat is filled with IRS agents. The other 5,559 agents would have to tailgate in the parking lot. And that's just the new hires.
The Inflation Reduction Act claims to reduce the overall deficit by $30 billion a year for the next 10 years, with $20 billion in new revenue coming from IRS audits on low-income and middle-income Americans, despite repeated claims from the Biden Administration and officials who insist that no one earning $400,000 and under will see an increase in taxes or an audit.
However, experts insist that there is no way the IRS won't come after low-income and middle-income Americans given that that is where the easy money is found and considering the wealthy and uber-wealthy have the best tax attorneys, who know every loophole and have unlimited income to fight. The IRS is well aware of this and uses its resources to disproportionately go after low-income households.
$370 billion in the bill will supposedly be to address climate change, by offering tax incentives but only after you pay out of pocket for green energy initiatives, such as installing solar panels on your home. $64 billion will go to fund Obamacare subsidies, there will be a 15% minimum tax on large corporations and increased energy taxes on crude oil and imported petroleum by 16.4 cents per barrel, plus additional increases in taxes and fees across the fossil fuel sector that will raise energy costs on everyone.
Zero Republicans in the House and Senate supported this bill.
According to TaxFoundation.org, in the long run, the bill will reduce the average after-tax income for taxpayers across every income group. By reducing long-run economic growth, the bill might instead make inflation worse by restricting a productive economy.
This bill fails to address the exorbitant cost of groceries, which is having an overwhelming effect on most American families, with no relief in sight.
This immense spending bill seems to be another Democrat classic that aims to convince Americans that you can spend your way out of debt, and anyone with a personal budget can tell you how that works out. This bill validates the progressive mantra that you can rob 'from Peter to pay Paul' even though this bill stands to rob from everyone.
In the end, the Inflation Reduction Act is another Democrat bill that will place the tax burden on the middle class. With small businesses and the middle class being the backbone of the American economy, that doesn't bode well for our country's future. Democrats have always known this, yet they continue to forge ahead with one bad idea after another designed to crush the middle class and American small businesses, which will further the "fundamental transformation" of America, as promised by President Obama and perpetuated by his Vice President, now unbelievably the President, Joe Biden.
By Victoria Norcross
#####