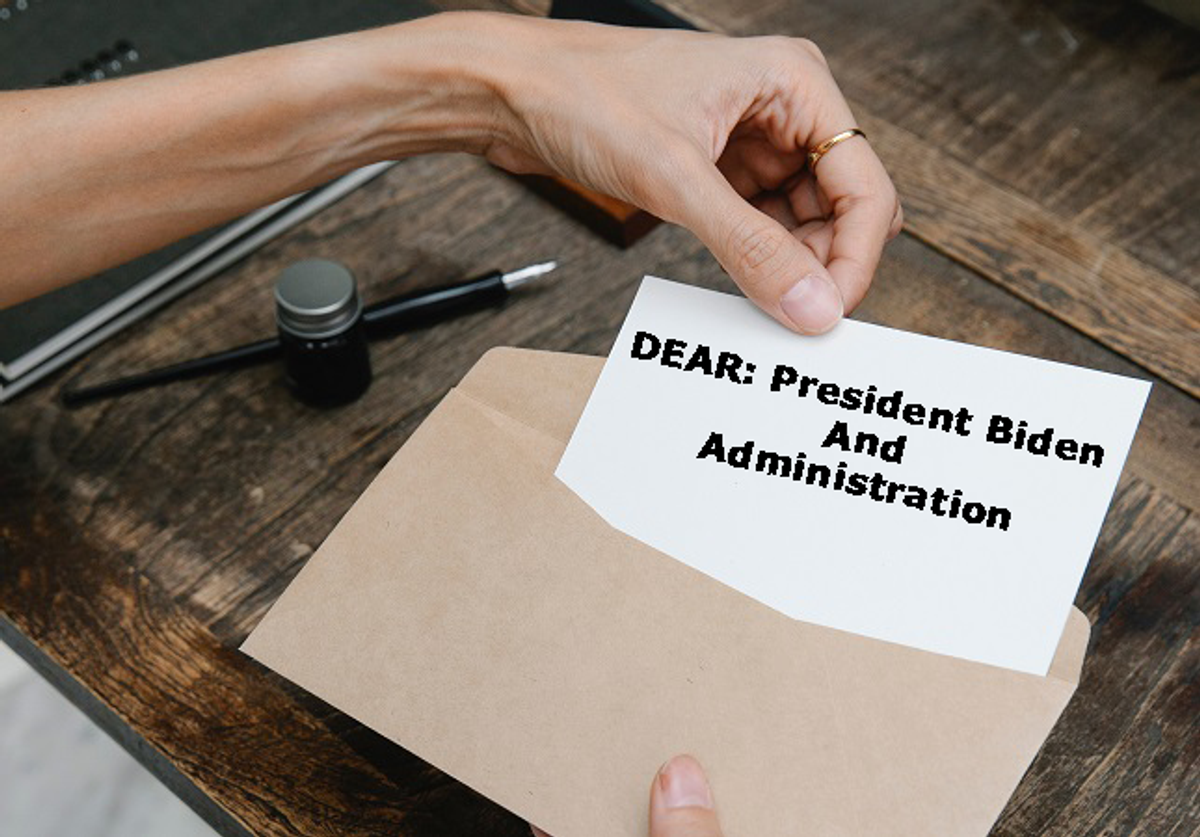 Open Letter to the Biden Administration and the President
To Whom it May Concern in the White House Westwing:
Perhaps, you're aware, and then again, you may not be aware, so I will enlighten you on a few facts regarding the American people and where the mindset of hundreds of millions of our citizens is currently resting.
As evidenced by your approval numbers (the President), the American people are both troubled and angry. There are quite a few reasons "why" these feelings are so prevalent. The questions for our nation now become;
Does the President even care about our (the American people) frustrations with your administration and their actions in governing?

Is your apparent inability to lead this nation by design, or is it medically induced, or a genuine lack of ability?
Let me give you (and you know this but may need to be reminded) a few facts at the top of everyone's concern lists and this administration's dismantling (at least this is the way we see it) of our country.
The historical facts are, This nation was, in truth, built as a haven for Christian principles. Both the Jamestown settlers and the Pilgrims came to America for religious freedom. Contrary to what Liberalism teaches, this nation was built on Christian doctrine. Also, rebellious to the DNC (Democrat National Committee) and radical leftists (Critical Race Theory teaching), these settlements were formed some 40 years before the first enslaved people arrived. THIS NATION WAS NOT CONSTRUCTED AS A SLAVE STATE!
Recently you began promoting the talking points of "Republicans are the enemy" of the state. NO-SIR, we are not the enemy of the state, AND YOU KNOW FULL WELL THAT WE ARE NOT THE ENEMY OF THE STATE. Yet you go on national television and tell the world that we are trying to overthrow the government and tear down what so many sacrificed their blood and treasure to build. By you attempting to galvanize your party (for the midterms) into believing this, what you're effectively doing is "SPLITTING" this nation down the middle, and this is both unconscionable as a President, not to mention very dangerous for our country.

The United States of America has enormous reserves of oil, natural gas, and other minerals needed to operate for thousands of years. The Bakken Fields in North Dakota, Montana, and Southern Alberta have (known reserves) over 400 years of oil to operate in this country. This is not counting the vast resources in West Texas, the Western slopes of Colorado, New Mexico, the Gulf of Mexico, Louisiana, and the West Coast or Alaska. So why did you give our energy independence away to Saudi Arabia, Oman, Qatar, Venezuela, and Russia? There are two plausible reasons. A; Corruption at the highest levels. B; Capitulation to the Green religious cultist who seeks to return our nation to driving horses and buggies.
Mr. President; The hard truth is, we are not near ready for a nation to live on wind energy and electric cars. I personally drive a pickup truck, and I am not giving up my truck for a small car that needs a $25,000 battery every 3 or 4 years. You may not be aware of this, but electric trucks cannot transport produce from the valleys of California to the East Coast in a timely fashion where the product is still fresh.
Your administration has driven our nation's debt to almost unmanageable levels. You have turned our military into a woke culture to where now nobody wants to join. You have pushed NATO and Ukraine into a near nuclear conflict with Russia (which is pure insanity), and you have made our borders more porous than the Titanic. And for what? And now you're insulting China and threatening them over Taiwan.
You say the American people elected you. Then why are you not acting like it? You have weaponized the FBI and turned them on parents who merely wanted to speak out against School Boards while giving a pass to the Clinton regime over "fake" charges against former President Trump. The appalling part of this is you say our Justice Department deals out equal Justice for all. When the truth of the matter is, it is not, and the American people can clearly see this.
While January the 6th was not appropriate, what else that wasn't appropriate was the threatening protest against Supreme Court Justices in front of their homes. Yet, you stood aside and allowed this to happen without ever uttering a word against it, much less sending out the FBI to arrest the perpetrators of these very illegal acts.
Mr. President, you're supposed to be the President of "ALL OF AMERICA," not just the Democrats. You are the President of Republicans, Tea Partiers, Christians, Jews, Atheists, MAGA Americans, and those who reside somewhere in the middle. Your governance of this nation has and is tanking everyone's 401k, driving inflation through the roof, punishing the real estate industry, and punishing the average American beyond what you realize.
We realize that none of this affects you as you have a convoy of Secret Service to protect you if you simply drive up the street to buy a dozen roses for the First Lady. However, the rest of us are being abused needlessly at the gas pump; this is reprehensible on your part. And speaking of that topic for a moment. WE DO NOT BLEED THE NATIONAL EMERGENCY SUPPLY OF OIL JUST TO DRIVE DOWN THE PRICES AT THE PUMP. THE STRATEGIC OIL RESERVES ARE FOR NATIONAL EMERGENCIES, NOT YOUR TRYING TO SAVE YOUR ASS IN THE MIDTERMS.
Mr. President, whoever is giving you advice on how to govern this nation needs to be terminated immediately. The direction our country is heading is nothing short of doom and gloom. If you're unable to govern this nation, it is time to step aside and hand over the reins to someone who can. Personally speaking, no, Kamala isn't qualified either. She doesn't even know that North Korea is NOT our ally.
By Ken Crow
#####