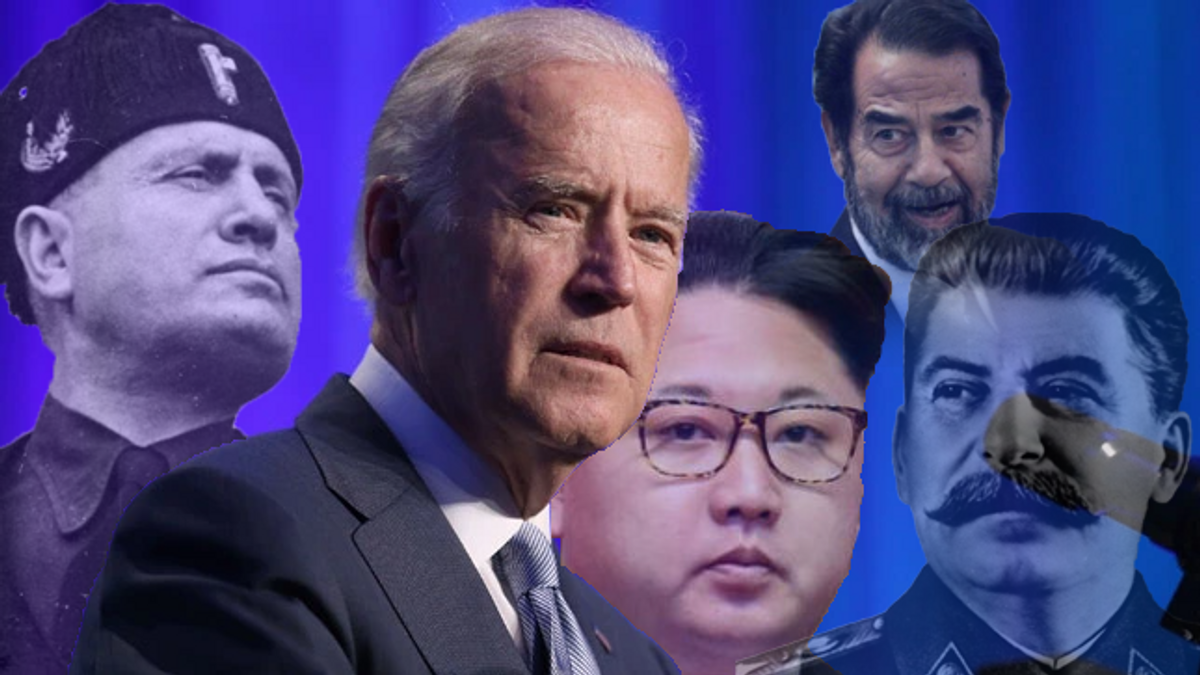 Is Joe Biden Becoming A Dictator?
People will often point the finger at someone and make accusations of their failings or crimes when the finger pointer is the one guilty of the sin. Everyone knows someone who has cheated on their spouse while accusing the other of committing adultery. This is called deflection. Watch the dancing ball while the other hand is pickpocketing you.
Last night in the City of Brotherly Love (Philadelphia), President Joe Biden gave a speech. For twenty-something minutes he told us how our Democracy was under attack from evil Republicans led by former President Donald Trump. For twenty-something minutes, we heard how some 70 million Americans are racists, anarchists, and fascists and want to bring back Jim Crow laws. This is coming from the man who campaigned on "unifying" our American citizens.
Think clearly for a moment. Joe Biden is telling the world that over 70 million citizens of this nation are anti-American fascists who seek the destruction of this nation. A population larger than that of all of Canada hates America and wants her destroyed from within. That is the message that Biden was attempting to send to the world.
Below is the entire speech that Biden delivered last night. The entirety is being posted because nobody will be able to say that it was altered or not taken in context.
Throughout his speech, Joe Biden kept referring to "our Democracy." Someone on his staff should have informed him that we are NOT a Democracy. We are and were set up to be a CONSTITUTIONAL REPUBLIC. ( A constitutional republic means that it is one in which, rather than directly governing, the people select some of their members to temporarily serve in political office; the constitutional part means that both the citizens and their governing officials are bound to follow the rules established in that Constitution.)
Real Americas Voice broadcaster Steve Gruber probably said it best when describing Joe Biden's speech last night.
Couched in front of Independence Hall with an eerie black backdrop and flanked by two United States Marines standing dutifully at attention, Biden launches into a flame-throwing speech filled with hateful rhetoric directed at anyone who voted for or supported President Trump.
It would have been one thing had Biden discussed what few accomplishments he and his Democrat colleagues had accomplished. It would have been one thing had he insulted the Republican Party for their ideology or lack of willingness to work with him. But that is not what Biden did. He attempted to use his 30-minutes of network airtime to create yet more divisiveness amongst the American people.
Joe Biden proved (in glaring terms) last night what actual fascism is. Fascism is when your leader stands and tells the world that your political opponents are racist, fascist, anti-national, dangerous, and makes every attempt to turn your nation into a one-party system. This is what Joe Biden performed last night.
Every American should be frightened to the very marrow of their bones over what we witnessed last night. You may think a lot about Donald Trump. You may not have liked his Tweeting, incessant boasting, constant fighting with the press, or even ego-driven speeches. But you never, ever heard him say that the opposing political party was dangerous for this nation. Oh yes, he hammered them at every opportunity and commented on their dangerous socialistic ideology, but he never called them out by name and tried to turn the nation against a fellow citizen.
If anyone in this nation at this point is dangerous, it would have to be the President of these United States. Joe Biden has proven that he is willing to use his bully pulpit to turn this country upside down from within and cause social dissent. That is more dangerous for our peace and prosperity than anything.
That is the stuff Dictators do, not MAGA Republicans.
By Ken Crow
#####
Related Twitter Posts
Trump rails on Biden and schools him on the real meaning of #MAGA

Subscribe to our Substack: https://t.co/d97FG7rHfW pic.twitter.com/l5cX5lfMp6

— Real America's Voice (RAV) (@RealAmVoice) September 2, 2022
Presidential Historian @CraigSmpa says that Biden's speech was reminiscent -- not of the great Americans of old -- but of a totalitarian.

Watch LIVE➡ https://t.co/mC9SidAlPx

Watch more #AmericasVoiceLive with @stevegrubershow here: https://t.co/whr6wMHpHi pic.twitter.com/pD5SJEE2DV

— Real America's Voice (RAV) (@RealAmVoice) September 2, 2022
More Biden Speech Reactions