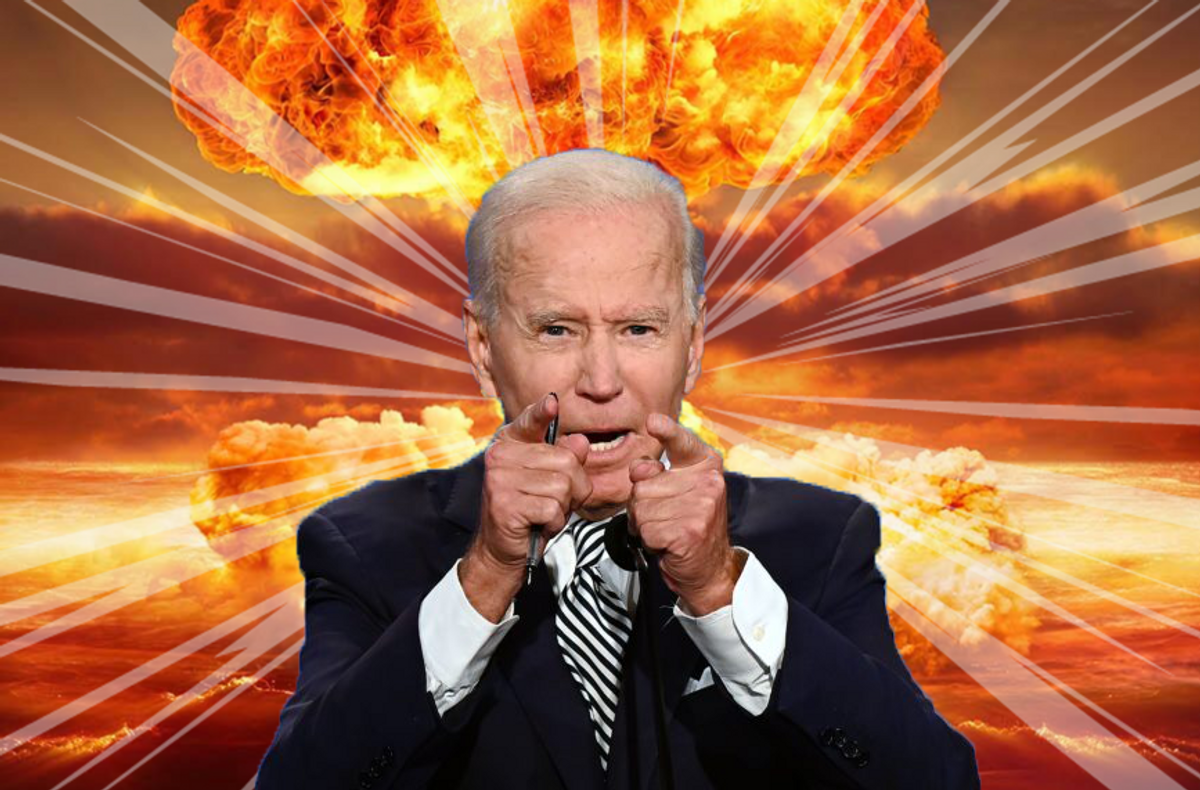 Is Biden Leading the U. S. to a Nuclear Conflict?
The fear is growing across our nation. Bridge clubs, coffee shops, the 19th hole at many country clubs, and even the ladies' flower club meetings are abuzz with talks about a nuclear conflict between Vladimir Putin and a NATO coalition led by the United States.
The central theme of these discussions is, "has Joe Biden and this administration lost their collective minds?"
Arguably the most troubling aspect of this conflict in Ukraine is this. The only one willing to discuss peace is Vladimir Putin himself. The American State Department isn't ready to discuss peace under any circumstances. Ukraine President Zelensky doesn't seem to be willing to discuss any peace terms, and NATO has said they "want to go to war" with Russia. Here is the truth of these situations.
NATO doesn't do anything without the guidance and approval of the United States.

The State Department doesn't put out any statements (particularly regarding a war) without the approval of the White House.

Zelensky himself would not have gone on television and made those very braggadocious statements without knowing the United States would back him up.
The common thread amongst all this is; Joe Biden and this administration. It has become widely known (prior to this conflict, it was only known in smoke-filled backrooms) that the United States policy is "Regime Change" in Russia.
America has a long history of meddling in foreign nations' leadership. Remember the Philippines and Ferdinand Marcos? In Panama, it was Manuel Noriega, Iraq we deposed Saddam, and the list goes on and on. It seems as if America doesn't like the way a foreign leader plays in the sandbox, so we step in to take them down. This works well and is not that difficult in 3rd world nations, but to attempt this in Russia is not just dangerous but almost mind-blowing dangerous. Keeping in mind that Putin has had an iron grip on that country for two decades and is in control of the world's largest nuclear arsenal.
FEAR MONGERING
For the sake of sending a message of fear down your spine, let us look at what a couple of nuclear strikes would actually look like. In case you don't believe that our government is not taking this seriously, then explain why these television ads have begun running on New York Cities' television stations.
This sort of reminds you (if you're older) of the old "duck and cover" drills we had back in elementary school during the cold war.
Let us now have a reality check. Even a "low-level" nuclear explosion over New York City would have catastrophic effects.
The above video should have given you an idea of just how unmitigatedly devastating a nuclear detonation over a major city could be. Many question whether Russia could ever manage to get a nuke through to the United States and get it detonated. Do you really want to test whether they could pull this off?
Even a "low-level" nuke over New York City would kill a million or more people instantly. Drop it on Manhatten Island, and it will eviscerate a circle of about 8 miles. This will encompass millions of lives. Keep in mind that the initial shock of the explosion will level every building and every house, and nothing will be left alive within this immediate area. The initial blast will have fire and heat rivaling that of the sun. Within days after the initial blast, hundreds of thousands of more people will die from radiation poisoning. And this is only the beginning of issues for the targeted area. The ground becomes uninhabitable for thousands of years.
Imagine an actual ICBM (Intercontinental Ballistic Missile) getting through to detonate over Chicago or Dallas, Texas. These are hundreds and even thousands of times more powerful than a low-level field-grade nuclear weapon. The area of devastation is almost unimaginable. The weapons are so powerful that one bomb in the center of America would affect the bulk of this nation for ten thousand years. This doesn't include the millions of lives that would be lost immediately. Then you have no agriculture, no potable water, no infrastructure left, a totally crashed economy for the rest of the nation, and on top of that, a devastated military.
THE FACTS;
The majority of the people in Eastern Ukraine speak and are, in fact, Russian by heritage. They voted in a referendum to join the motherland of Russia. Zelensky is holding the United States economically and militarily hostage. Turkey came up with a very equitable solution back in April, and both Biden and Zelensky rebuffed the deal, which would have saved tens of thousands of lives and billions of dollars. You will notice that the American media never shared this deal with the citizens of this nation.
This administration is backing Putin into a corner. With the demolition of the Nord Stream pipeline, they are intentionally provoking Russia into a nuclear conflict. Ultimately Vladimir Putin will be forced to go down this road to win and retain both his power and pride. Why? Why are America and NATO so hell-bent on pushing this conflict?
A conflict of this magnitude is unimaginable and grotesquely earth-changing and risks the annihilation of all mankind. How in God's good name is the President even considering such a thing? Is Zelensky so delusional that he believes his nation will survive a couple of these low-level nukes exploding over Kyiv?
OPINION;
Many polls have been conducted in the Donbas (Eastern Ukraine) regions and even in Crimea over whether or not the citizens want to be part of Russia. The percentages are overwhelming. The majority of the people of these regions are Russian and want to be part of their heritage.
Zelensky is an actor (yes, for real) and is a puppet of the United States. He is going to do what America tells him to do. America, for whatever reason, has decided that Putin needs to be put out to pasture. Between the White House and the American media, there has been an ongoing push to paint Vladimir Putin as Darth Vador and nothing short of Satin. This in and of itself is strange because George W. Bush, Barack Obama, and even Donald Trump got along very well with Putin. We had a cordial relationship with him, and all was going fairly well until Joe Biden took office. What happened?
This administration is pushing war with Russia, which must be stopped NOW. Do not believe that Russia is losing in Ukraine. The fact is, the real war has not even begun yet.
The reality is, when (and it will come) Russia rolls into Ukraine with a couple of hundred thousand troops, a couple of hundred bombers, and thousands of tanks, the picture changes immediately. The fact is also Russia can create hell on earth for both Ukraine and NATO.
It is time for "cooler heads" to prevail in Washington, D. C. It is time for an adult in the room to stand up and say, this is insanity, and we need to put a stop to it before it is too late for all of us. Make no mistake and do not misunderstand; if this goes far enough, Russia has the capability to park a couple of submarines off our East Coast and start launching missiles.
Is this really what we want? My God, I hope not.
By Ken Crow
#####