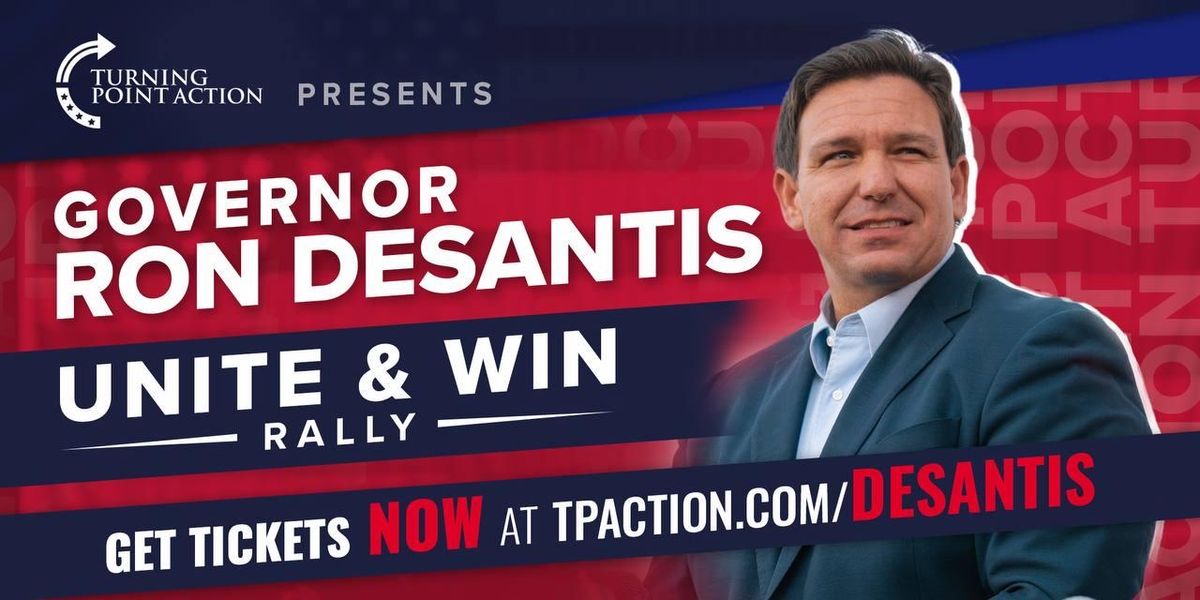 Gov. Ron DeSantis to Headline 'Unite and Win' Rallies in Arizona, Ohio, and Pennsylvania
FOR IMMEDIATE RELEASE
CONTACT: Turning Point Action
Press@TPAction.com
Turning Point Action to Host, and Organize Rallies with Gov. Ron DeSantis in Support of Kari Lake, Blake Masters, J.D. Vance, and Doug Mastriano.

PHOENIX, August 10, 2022—Due to demand, Turning Point Action has had to upgrade venues in order to accommodate increased crowd capacity needs and shifted certain event times accordingly for its upcoming "Unite and Win" rallies in Arizona (August 14th) and Pennsylvania, and Ohio (August 19th). The rallies feature one of America's most popular political leaders, Florida Governor Ron DeSantis in support of Blake Masters, the Republican candidate for US Senate in Arizona; Kari Lake, the Republican candidate for Arizona Governor; State Senator Doug Mastriano, the Republican candidate for Pennsylvania Governor; and J.D. Vance, the Republican candidate for US Senate in Ohio.
Charlie Kirk, Founder, and President of Turning Point Action: "Gov. DeSantis is America's Governor and one of the most popular leaders in the country. He has become the model for a new conservative movement that is willing to stand on principle and actually fight on behalf of the values of his voters. That he is willing to throw the full weight of his support behind Kari, Doug, Blake, and JD tell you everything you need to know about these incredible candidates who I endorse and support 100%.
We believe Kari Lake will be the Ron DeSantis of the West, Doug has become a true grassroots champion for the people of Pennsylvania, and Blake and JD will help break apart the uni-party consensus in Washington, D.C. to stop the endless wars, the runaway spending and put an end to the cocktail party Republicans who seem to be good at one thing only, betraying their voters. Gov. DeSantis has the unique ability to unite conservatives around these candidates, and Turning Point Action is honored to host and organize these rallies on their behalf."
***All updated venue details and times are listed below.
***Please note that the previously announced New Mexico rally has been canceled due to scheduling conflicts.
ARIZONA EVENT DETAILS
WHO:
Ron DeSantis, Florida Governor
Charlie Kirk, Founder of Turning Point Action
Blake Masters, Arizona Republican Candidate for US Senate
Kari Lake, Arizona Republican Candidate for Governor
WHAT:
Unite and Win Rally - Arizona
WHERE:
Arizona Financial Theatre
400 W Washington St
Phoenix, AZ 85003
WHEN:
Sunday, August 14, 2022
5:00 PM: Doors
6:30 PM: Blake Masters
6:45 PM: Kari Lake
7:10 PM: Charlie Kirk
7:25 PM: Governor Ron DeSantis
7:55 PM: Close
(All times local MST)
TICKETS:
TPAction.com/DeSantis
PRESS PASS:
https://tpaction.com/presspass
Conversations about the Unite To Win rallies
.@TylerBowyer joins @CharlieKirk11 to preview the Unite & Win Rally happening this Sunday in Arizona featuring FL @GovRonDeSantis and special guests @KariLake and @BGMasters.

🇺🇸 Read more about the Unite & Win Rally: https://t.co/g8CK6hZpv5 pic.twitter.com/5tSKwDeLsX

— Real America's Voice (RAV) (@RealAmVoice) August 12, 2022