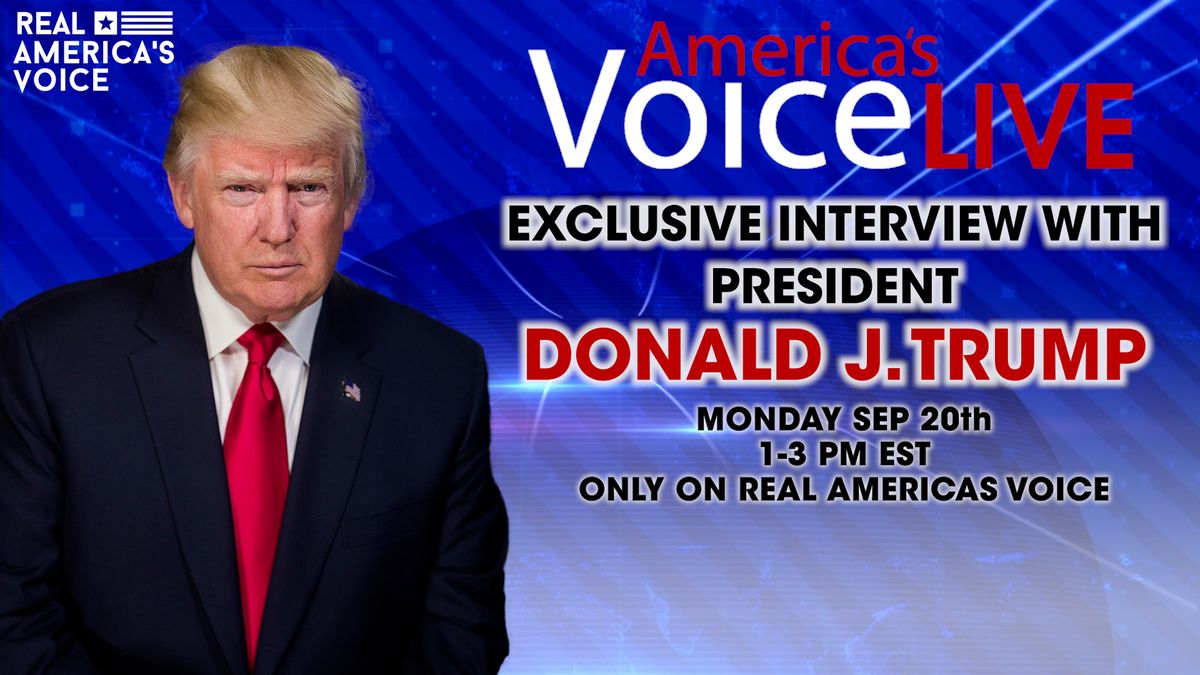 EXCLUSIVE: DONALD TRUMP INTERVIEWS WITH REAL AMERICA'S VOICE NEWS NETWORK
The 45th President discussed wide range of topics, including Afghanistan, China, vaccines, and election integrity
Washington, DC / September 20, 2021 – In an exclusive interview with Steve Gruber on the rapidly growing Real America's Voice network on Monday, 45th President Donald Trump pulled no punches when discussing his disappointment with President Joe Biden's mishandling of the Afghanistan withdrawal, calling it "the single greatest embarrassment… that this country has ever suffered."
"The way we fled… it was just a total retreat," Trump continued. "We could have taken six months, a year, three years, we were going to get… every nut, every bolt, every nail… every plane and every tank… and then we would have bombed everything, and we would have kept Bagram," said Trump. "We were going to keep it because of China, not because of Afghanistan," he explained.
"The border, which was the single biggest embarrassment, has only gotten far worse, and when you look at these pictures over the last 48 hours the border was the biggest embarrassment and now the border looks good by comparison to Afghanistan and the withdrawal," Trump continued.
The 45th President also noted that the Biden administration's weakness in Afghanistan was sure to embolden the United States' adversaries, specifically China.
"President Xi, like him or not he's at the top of his game, and when he watches this and he meets with these people he probably can't believe what he sees," Trump said.

The wide-ranging interview also touched on a number of other topics, including the Biden administration's handling of the COVID crisis, the 2020 election, and state efforts to secure election integrity.
On Biden's Vaccine Mandates
"Now they're the ones pushing the Trump vaccine… And it's sort of ironic, they were saying "I would never take the Trump vaccine" and now they want everybody to have it even if people don't need it."
"When we came out with the vaccine everybody wanted it, there was no backup there were no large groups… that didn't want it… and now it's sort of the opposite. I'd like to see them get it frankly, but it's now the opposite and they're forcing it on people that had COVID."

"Isn't it interesting that they're trying to push the vaccine that they said they'd never take, and then they wonder why are people hesitant."
On the 2020 Election
"We got 75 million votes, more than any sitting president by far, we got 12 million more votes than we got four years before, we did great, we won the election by a lot."

"They robbed the election, they stole the election, it was rigged — it was a rigged election and it's a disgrace."
"We don't want to lose track of what happened in 2020 because otherwise you're not going to win in 2024, you're not going to win in '22 or '24. They have to weed out all the corruption."
WATCH THE EXCLUSIVE INTERVIEW HERE, HERE, AND HERE.
# # # # #
You can watch all Real America's Voice Programming at https://realamericasvoice.com or by downloading the app on Apple or Android. Real America's Voice is also available on DISH Network, Apple TV, Amazon Fire TV, Pluto TV, Samsung TV Plus, and Roku.