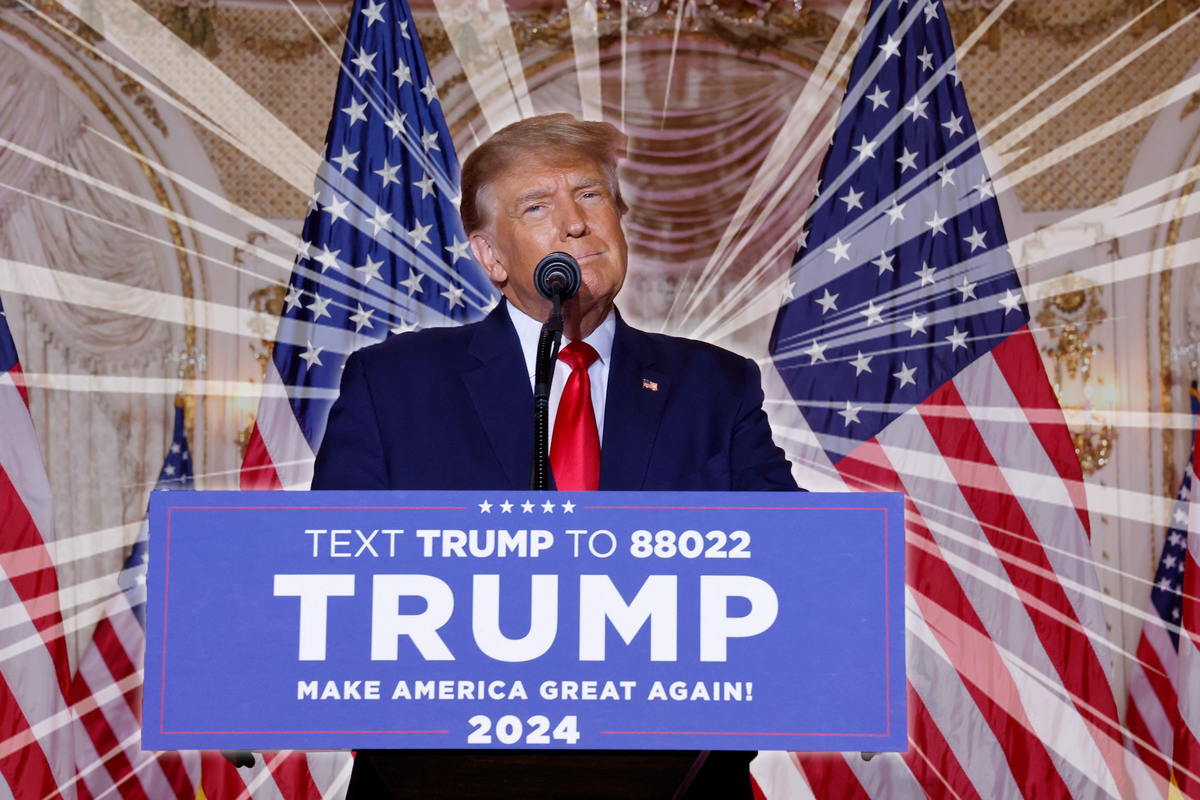 Donald Trump Locks Out the GOP and Announces His Campaign for 2024
After last week's trouncing by Florida Governor Ron DeSantis for his re-election, many in the GOP began floating trial balloons that he was the new standard bearer and leader of the Republican Party.
Last night's speech by former President Trump (at his Mar-A-Lago estate in Florida) let it be known far and wide that he was the one to beat and the leader of the party.
The former President's speech lasted about an hour and ten minutes. He began by giving his "score-card" from last Tuesday's mid-term elections. His endorsement tally was 222 wins and some 23 losses. Trump then launched into the many failures of the Biden Administration, including the loss of energy independence, the Southern Border invasion, Biden's foreign policy failures (which have us on the brink of a World War), the current fuel prices, grocery prices, and housing costs. He became very somber when describing how many Americans die daily from the deadly drugs pouring across our border.
During Trump's announcement speech, he reminded America of "how well we were doing" under his watch and how he had made friends with North Korea's Dictator, Putin, and China's leader Xi Jinping. He explained that by doing this, and creating these personal relationships, he was able to keep Vladimir Putin in "check," had Korea's Kim not firing missiles daily, and he managed to renegotiate trade deals and peace through strength with China.
After his announcement to a raucous ovation by the approximately 200 friends, family, and supporters in attendance, Trump began laying out his vision for "making America strong again, proud again, wealthy again, safe again, and of course, making America great again."
One of the loudest cheers which President Trump received was his pledge to have "Federal Elections" handled with paper ballots, same-day counting, and forced presenting of a valid ID. He promised to implement this through Executive Order: no more drop boxes, ballot harvesting, and extended counting periods under his watch. Naturally, the crowd cheered wildly.
The event ended with the former President bringing several of his children up to the front of the room and the former First Lady Melania Trump, who the crowd greeted with much enthusiasm.
Clearly, this announcement drove a stake through the heart of former Vice-President Mike Pence's ambitions of running for President. There is (in my opinion) no way that Pence will be able to raise enough money or support from the right side of the aisle to mount a viable campaign against Trump. Trump has 50-60,000,000 rabid supporters who will not support anyone but him. They will only leave the fold if Trump is forced out of this campaign due to indictments or legal restrictions.
While it is not being mentioned, the DOJ and Merrick Garland are fully aware that Congresswoman Marjorie Taylor Greene (who is a valued ally to Trump) will be in charge of the Congressional Oversight Committee. She has already announced that she is launching investigations into Hunter Biden and likely calling for the impeachment of Garland (for weaponizing the DOJ) this January. Does he really want to wave a red flag and go after Trump at this juncture?
Also, keep in mind that Trump has been raising money since January 21, 2021, and now has a war chest bulging with (some estimates) over $300,000,000 between his PACs and campaign account. His Boeing 757 has been serviced and has a new engine; his credit cards and bankroll is stacked deep he is on a mission. There has never been a Presidential candidate who is more prepared to go to political war for the nomination than this former President.
Last night on Twitter, I was asked, "who would he select as a running mate?"
Remembering that in the last election, one of Trump's significant losses was with women who viewed him as the "mean Tweeter and Chief." There is no debate that he lost quite a bit of support from the suburban housewife and single mother.

South Dakota Governor Kristi Noem is tough, a real cowgirl, and should bring many women back to the Trump tent.
I think the perfect running mate for Donald Trump would be South Dakota Governor Kristi Noem. Their personalities mesh almost perfectly. Noem is known as brash, a fierce fighter, and tough as nails. In addition, she does have a good record under COVID as she was one of the first, if not the first, to unlock her state and get it rolling again.
There were many calls for Florida Governor Ron DeSantis to announce his candidacy, but after last night, it is clear that a DeSantis candidacy would likely fail in addition to splitting the party even more so than it already is. To unify the party, what DeSantis should probably do is put out a "soft" endorsement of Trump (leaving himself open), and this way, if Trump is legally forced out, he could pick up the mantle and run without too many repercussions. The benefit is that DeSantis would likely attract the Trump nation to his side.
In the end, 2024 will be an election for the ages.
Millions of devoted Trump devotees will be manning the canvassing centers to prevent cheating, and billions will be spent to re-elect this President. Trump will be the next President sending Joe to the Senior Center for Retirement.
And now maybe, just maybe, "WOKE will die a slow horrible death," children can once again learn accurate history, and we can all be proud to be America again.
Welcome back, Mr. President!
By Ken Crow
#####