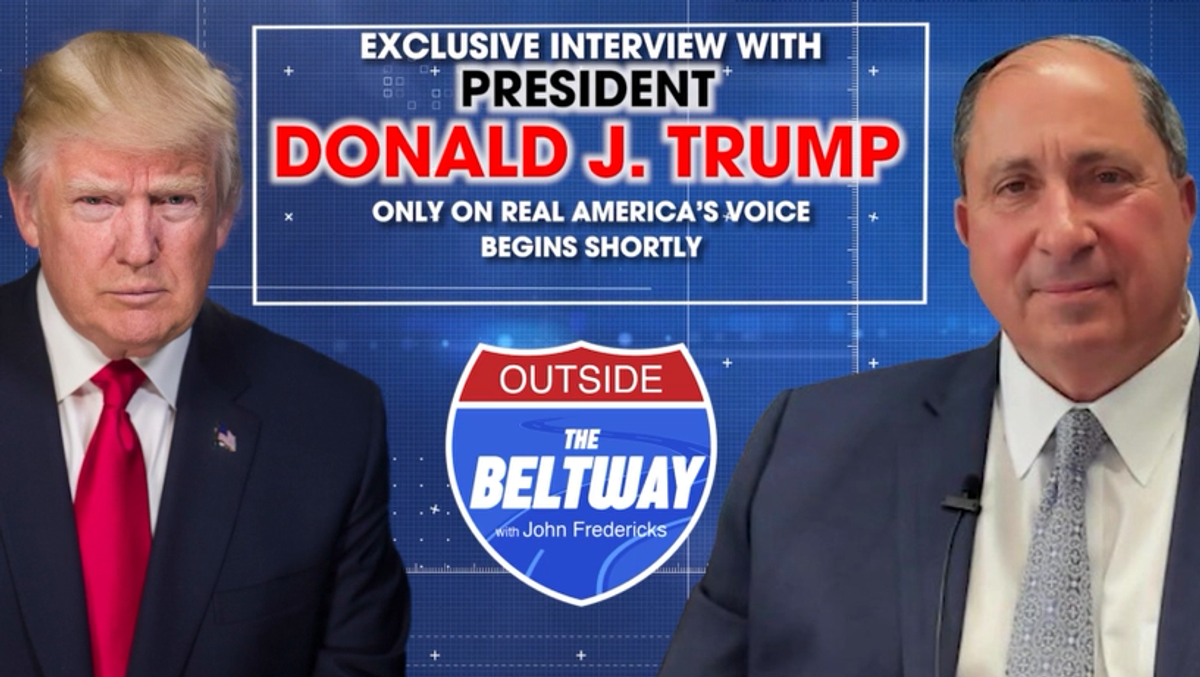 DONALD TRUMP: "BETWEEN OUR VOTING SYSTEM AND OUR BORDER WE'RE LIKE A THIRD WORLD COUNTRY"
Real America's Voice Network Airs Exclusive Interview with 45th President.
Washington, D.C./September 23, 2021 – In an exclusive interview with John Fredericks which aired live on the Real America's Voice network Thursday, 45th President Donald Trump discussed a number of topics, including the Biden administration's handling of the border crisis, election integrity, and the security threat posed by Afghan refugees.
"Jails are being opened up all over the world and they're dumping them into our southern border," said Trump. "Forty-seven countries are emptying their jails into the United States… these are not people you want in the United States, they're going to cause tremendous havoc," he said.

When asked how he would handle the border crisis differently, Trump said that he "would do a deal where they stop everybody… at their southern border, meaning the other side of Mexico, that would take care of a lot of it. I would make sure that they put their troops back."
"You know, they keep saying they want open borders, I just can't believe it, I think they're incompetent," Trump said of the Biden administration. The 45th President noted how under his administration "we had the lowest drug traffickers, the lowest human traffickers, by far the lowest human traffickers" coming through the border. "Now not only do you see all of these people pouring through [and] you see something else that's just as bad," Trump continued. "The largest number, as you measure it, of fentanyl ever delivered to our country is coming in right now, and I had that down to the lowest number we've had in 15 years. It's not even fathomable," he said.
Trump also voiced concerns about the Biden administration's handling of Afghan refugees. "Nobody has anything to say about it," said Trump. "Nobody except for a select few know where they're going, and people are waking up and they may have terrorists in their midst," he continued.
The 45th President's wide-ranging conversation with Fredericks also touched on election integrity, which Trump described as "the biggest issue there is for Republicans." When discussing the numerous investigations into the 2020 elections occurring in multiple states, Trump said that it would come down to the courts. "I hope the judges step forward, I hope you have a great patriot judge that steps forward," he said, before noting that unfortunately, "Republican judges, they're afraid."
"This year because of the mail in ballots, they cheated more than has ever happened," Trump said. "This is like a third world country. Between our voting system and our border, we're like a third world country," he continued.
Trump also called for open congressional hearings into the events of January 6th and the subsequent treatment of those involved. "Let them examine, because they're treating these people so unfairly," said Trump. "You compare it to BLM and you compare it to ANTIFA, he's treating them, what they're doing to these people is so unfair," he continued. "There's never been anything like this in this country in my opinion, I mean literally it's going to a communist country because that's what happens."
# # # # #
You can watch all Real America's Voice Programming at https://realamericasvoice.com or by downloading the app on Apple or Android. Real America's Voice is also available on DISH Network, Apple TV, Amazon Fire TV, Pluto TV, Samsung TV Plus, and Roku.