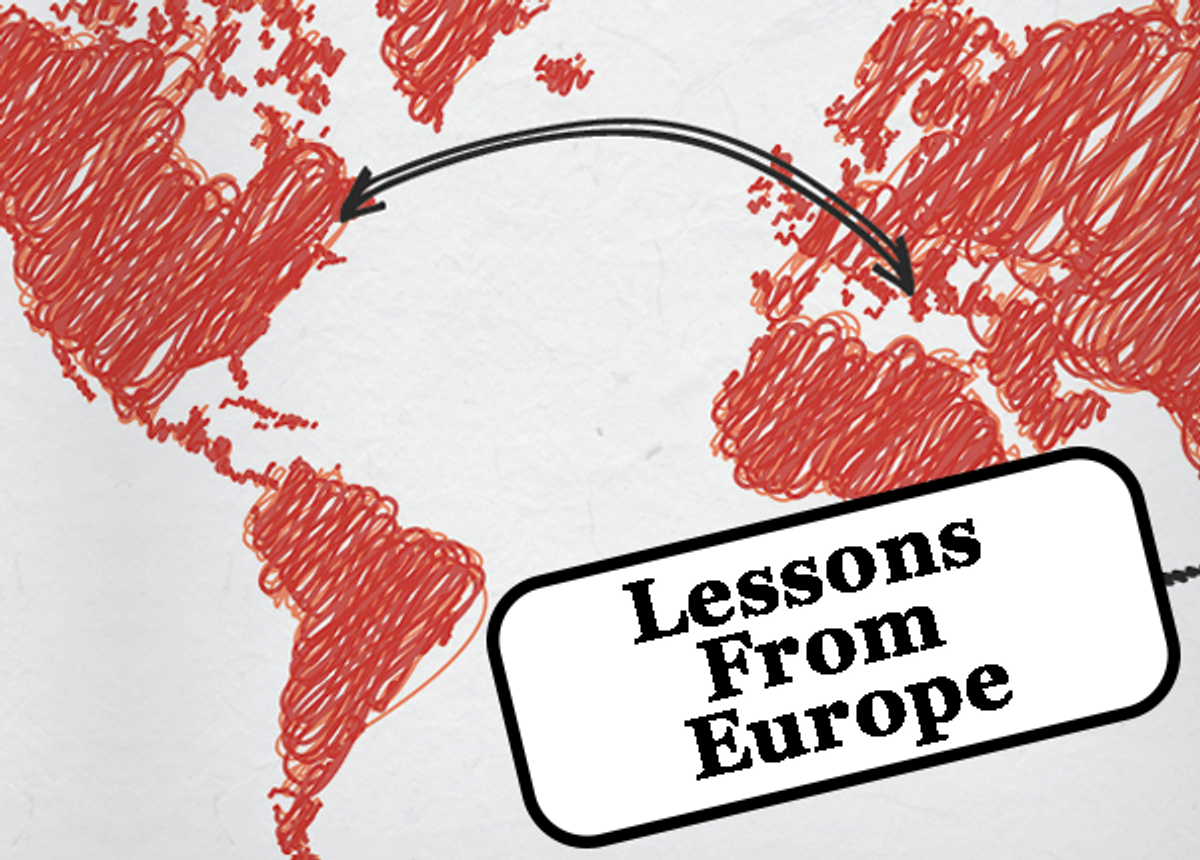 Could America Take Some Lessons From Europe?
If the world has learned anything over the past few days, it is that Queen Elizabeth II was regarded as regal, refined, poised, and dignified. While some of those adjectives might be redundant to some degree, they are all fitting to describe a woman revered globally for her elegance and demeanor.
Queen Elizabeth defined England as a nation of sophistication, decency, humanitarianism, and tradition. This has become evident when viewing the proceedings and newscasts following her death last week.
When examining England a bit more closely over the past week, all of Europe became somewhat more in focus. Besides manufacturing some of the world's highest-performance sportscars, great wine, incredible food, and a history of unparalleled success, Europe has something else we in America could learn from. That simply is "how to treat our fellow man."
One of the hottest topics on this year's campaign trail is crime and murder. There is no disputing that crime against person's numbers across our nation has risen dramatically over the past couple of years.
A good comparison of how bad it has become in America would be to compare some other nations versus our statistics.
New Zealand, for instance, has approximately the same population as the Chicago metropolitan area. In all of 2019, New Zealand had 126 murders for a population of around 5 million. Chicago, Illinois, will have that many murders and more in 2-3 weeks in the summer months. In 2020, the United States saw nearly 21,000 cold-blooded murders, whereas most of Europe numbered less than 2,000.
It is at this point that the great debate between liberalism and conservatism will begin. The Liberals will claim; that "if we did not have as many guns on the streets, we would have far fewer murders." And they may very well have a good point. It is easier to run away when someone is wielding a baseball bat or knife than when the bad guy is holding a 357 pistol. On the other hand, the conservative will claim that the world would be a safer place if everyone were armed with a Glock. And to some degree, both arguments are valid.
The naysayer of the above examples will claim, "well, the United States has a huge population, and the urban areas are very congested; this could be one of the primary causes of the high numbers of crime." I would answer, have you ever been to London, Paris, or Rome? All of these cities have millions of people living in very constricted areas. You can throw that argument out the window.
The Liberal will argue, "the residents of those nations don't have to worry about starvation as the government takes care of the poor, and they don't have to fight for their next meal." True, Australia, New Zealand, Great Britain, Germany, France, etc., have social programs that provide for people who, for whatever reason, are far less fortunate and cannot support themselves. This does tend to cut and curb crime back dramatically.
The Conservatives will argue that "all of that costs the taxpayer a fortune, and if we implement those sorts of sweeping programs, our income taxes will rise." This is debatable because it depends on how our nation's tax collection system is set up. Many countries do not have an income tax at all. They have an "end-user" tax on products purchased. IE; There is a national sales tax for camping gear, clothing, motor boats, etc... They don't tax food, medication, or healthcare, but they tax items that are unnecessary to daily living. This tax, in most cases, does fund the government for the most part annually.
Another argument (in actuality, this one cannot be debated much) is "how are we rearing our children?" Sadly, our children in America are not receiving the same social training we received many decades ago. Have you been to the grocery store lately? How about the shopping mall? We all have stories of witnessing out-of-control children whose mom or dad doesn't purchase what the child wanted, and now we get to watch a temper tantrum in the middle of the produce section. I've witnessed teenage girls and boys slap their mothers. I've watched children spit on their parents. And because of most states' "child-protection laws," the parents are fearful of doing anything about it.
Germany's average work week is 34.2 hours. Sweden's is slightly over 32.0 hours, while the United Kingdom's is 36.0 hours.
This equates to parents in these nations being at home more, thus supervising their children more closely. A single mother struggling in the United States will often work two jobs and won't show up at home until late in the evening. The child is often known as a "latchkey." The ramifications for this (particularly in the inner-city) are no help with homework, eating frozen food from the microwave, less time spent teaching morals, higher teen pregnancy rates, and the children often joining gangs as a family unit. This happens because the parents or parent is forced to work so many hours, and the children are deprived of proper parenting.
How Times Have Changed
When I was being raised, times were indeed different than today in the United States.
I was 12 years old, and my father had taken us to Chicago for a convention. We were staying at a very sophisticated hotel downtown, and as I walked into the elevator with my dad, I was still wearing my cowboy hat. (I was fresh off the ranch) Seeing this, my dad knocked my hat off my head and thumped me square in the middle of my head with his huge college graduation ring (which left a goose egg on my noggin.) He then " taught me that you do not wear a hat indoors, particularly in an elevator." This is how I quickly learned to have manners regarding a hat. I was also taught "always to tip my hat to a lady."
After having the skin stripped of my shins from being kicked under the table a few times, I learned not to put my elbows on the table during meals. After a few more head knocks, I always remembered to say, "yes, ma'am, yes sir, no ma'am, and no sir."
The point of all of this is that Europeans still teach decorum, respect, and decency, whereas, in many respects, we are still the "Wild, Wild West" here in America. Many will take pride in that we are much like Tombstone circa 1883. But the reality is that our society is violent, and we are getting worse, not better.
We could all learn something from Queen Elizabeth II.
By Ken Crow
#####