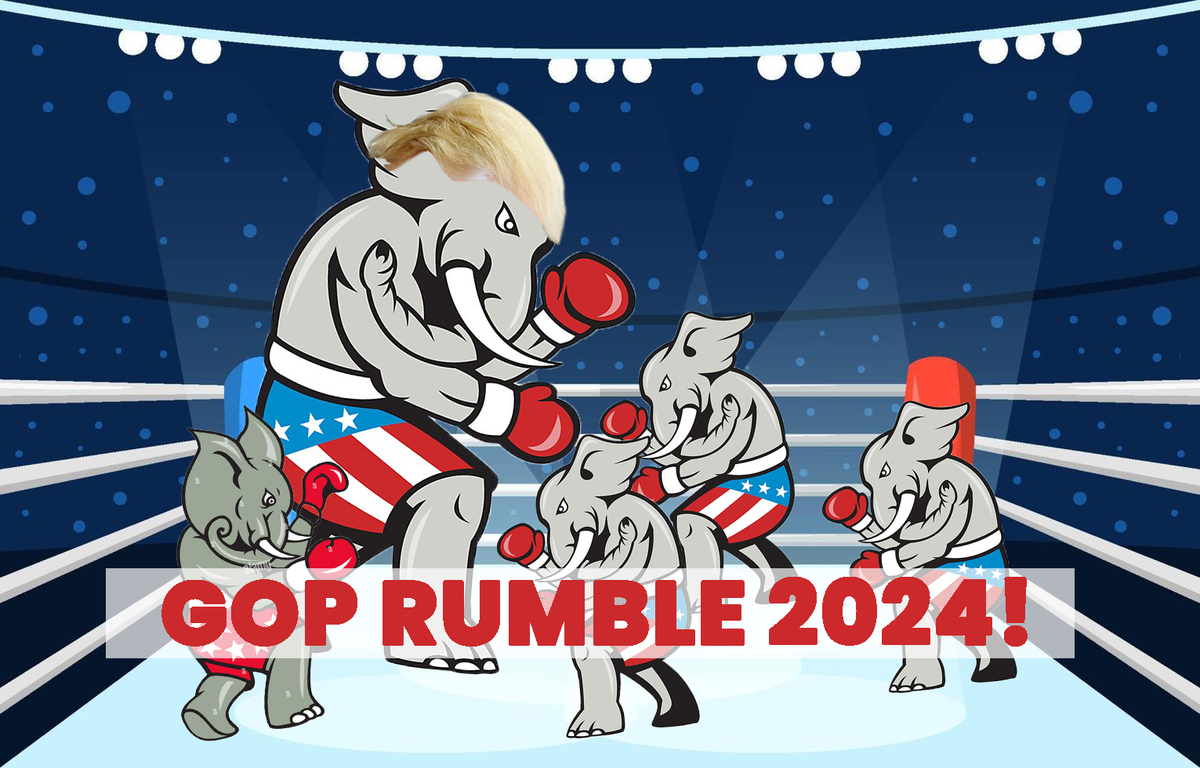 Campaign for the 2024 Presidency Will Be One for the Ages
You can toss out civility, political correctness, and politeness for the upcoming Presidential campaign of 2024. This will be a "street brawl" if ever there was one.
For the candidates, the upcoming campaign season will be brutal, particularly on the Republican side of the aisle. For the rest of us, this cycle will be something akin to a WWE smackdown and highly entertaining (assuming politics is your cup of tea).
For the elephant contenders, the puzzle is "how do we dethrone Donald Trump without making it look like we are directly attacking him?" The two-ton gorilla in the room is former President Trump and his legion of tens of millions of devotees. All of the challengers and their consultants know full well the ramifications of a direct attack on the political street-fighting former President.
Does the former Ambassador Nikki Haley challenge her former boss in a full-frontal assault? Particularly since the former President "wished her well" on a phone call prior to her public announcement. So far, Haley's campaign theme seems to be all flowers, positive thoughts, and unicorns, if her announcement video is any indication.
This sort of tepid rhetoric won't go far in a full-scale political rumble with the street fighters.
In a surprising twist, a tech-guru/entrepreneur named Vivek Ramaswamy has thrown his hat into the ring for the nomination. This highly intelligent multi-millionaire is approaching the campaign with a different slant than the conventional politicos are. He is nuking the WOKE movement, which will undoubtedly attract much media fan-fair as the campaign goes forward.
Then we have many "who" are rumored to enter the race. All will be the "run-of-the-mill" contenders who will be dropping out after South Carolina and certainly by the poll closings on the night of Super-Tuesday. The list is long and not so very prestigious.
Former Arkansas Governor Asa Hutchinson, Former Congresswoman Liz Cheney (who will have her butt handed to her by Trump), South Dakota Governor Kristi Noem (who may run for a VEEP nomination), South Carolina Senator Tim Scott (same-VEEP slot), Former Secretary of State Mike Pompeo (won't even get started before he is out), New Hampshire Governor Chris (who is this guy) Sununu, and our Former VEEP Mike Pence (who will be slayed by Trump in the first quarter of this deathmatch). That is the likely list of "also-rans."
The heavy hitters who have yet to announce but are strongly considering jumping into the quagmire are Florida Governor Ron DeSantis (who has already been nicknamed Ron DeSanctimonious by Trump). You know he must be a threat to Trump for him to have already crowned him with a nickname. Then there is the sleeper, which is actually a whale if he gets in.
Virginia Governor Glenn Youngkin could very well be the "Giant Killer."
He is Davey going against Goliath but not with a slingshot; he has an AK-47. Remember the Governor's race in Virginia? Youngkin had no chance, no name ID, and the media largely ignored him against sitting Governor McAuliffe. Youngkin is a passionate speaker, has boatloads of cash, is spot on with messaging, and has a killer campaign crew if he brings back the gang that put him in the Governor's mansion.

If these two jump in (which I believe they will), then expect a full-on assault on Trump, and the bloodletting will be plentiful. There will be character attacks galore because they dare not go after the former President's record.
None can go after his record on border security, job growth, inflation numbers, gasoline or energy prices, foreign policy as the world was not at war under Trump, or his record of Black and Hispanic employment numbers. Trump had a stellar record as President in terms of putting America First.
Now the question becomes, "how do we attack Trump?"
The only thing they have is "election denying" and possibly January 6. They will get some help "if" and only "IF" the Georgia Attorney General decides to prosecute Trump for election interference dating back to 2020 and the infamous phone call to the Georgia Secretary of State. Of course, AG Garland could level charges for January 6, but that is beginning to look like a long shot. Does the Georgia AG have the courage in her state to bring charges? This is proving to be a dicey act, also.
One of the things that could hurt DeSantis is his continuing "war on Disney." The war on Disney played well in conservative Florida as it was against the "WOKE" crowd and the LGBTQ community. The Bible-believing crowd in the Southern State loved it. Now the campaigning question of "how will this play" across the country is an altogether different matter. The jury is out on how voters nationally will receive the Governor's war against the Mouse.

All of the GOP campaigners will level nukes toward Biden's handling of the economy, energy, border security, education, the WOKE agenda, transgender medical practices of children, drag queen story hour in elementary schools, the Ukrainian debacle (plus Hunter's laptop), and certainly against Merrick Garland for his weaponizing the FBI. In other words, Biden is toast unless he can figure out "who" he can pass out another trillion dollars to before the election.
Then there is the sleeping giant in the corner. China!
Biden will be skewered for his cowering to Xi Jinping. This is an argument that Trump will own. Under Trump, China was largely silent, and now all of Trump's allegations of the "China Virus" have been proven accurate. Many had blasted him for being "racist" over the COVID pandemic. However, Trump can claim he was right all along and be seen as a prophet rather than something negative.
Get ready; the cage match is coming. Grab your popcorn; this is going to be a good one to watch.

By RAV contributor, Ken Crow
#####