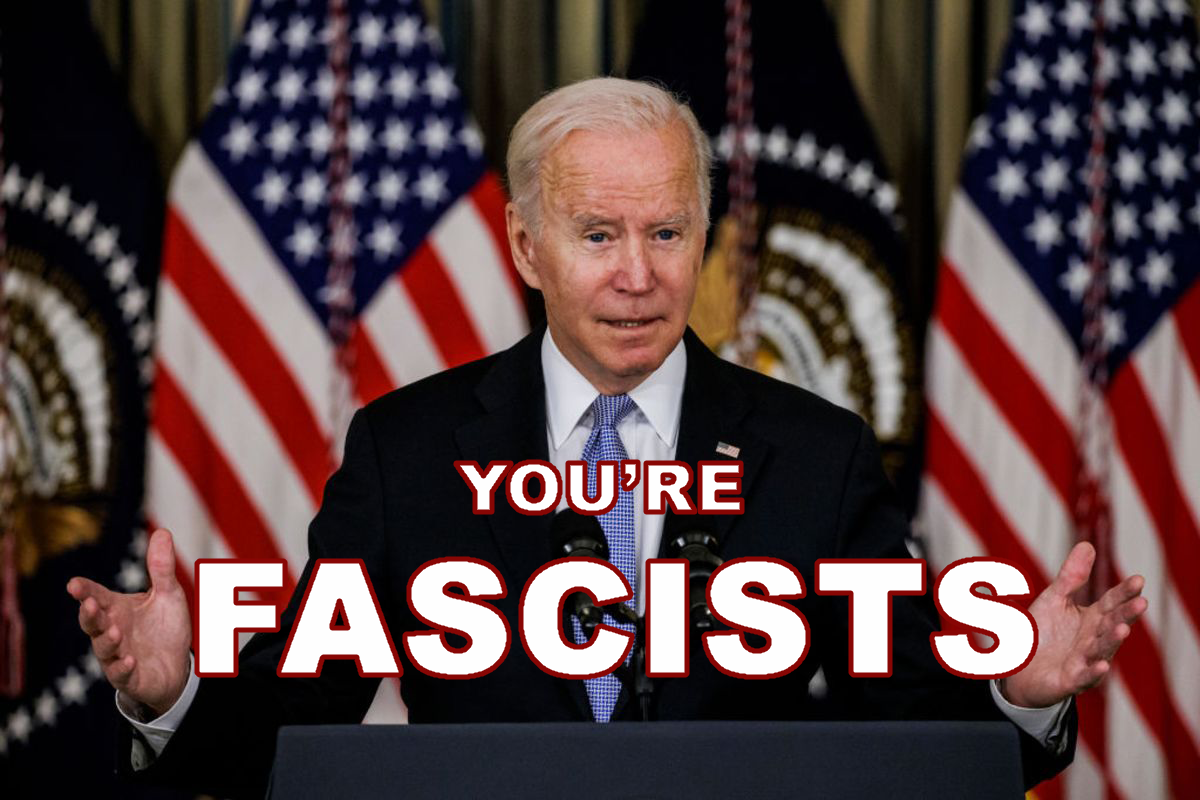 Biden and White House Say; "We're Fascists"
Let us understand- If you happen to be a Veteran, happen to own a gun, happen to believe in God and what the Bible says, and happen to like President Trump, wave a flag, and lastly, you happen to vote for conservatives, YOU'RE NOW A FASCIST.
On Friday, in an incredible statement made by White House Press Secretary Karine Jean-Pierre said; "I was very clear when laying out and defining what MAGA Republicans have done, and you look at the definition of fascism, and you think about what they're doing in attacking our democracy. ... That is what that is. It is very clear," Jean-Pierre told a press briefing.
As if that wasn't bad enough, Jean-Pierre decided to pile on more incendiary remarks; "When it comes to the extreme, ultra wing of Republicans, they are attacking democracy … taking away rights and freedoms. They are using ... threats of violence. They are taking away voting rights. And (Biden) called it what it is."
It's clear what Joe Biden and his White House are doing is attempting to divide the American people and paint "Patriotic Americans" as evil and a threat to our nation.
In this regime's world, you're un-American if you do not submit to taking the vaccine. You're a threat to our nation and planet if you don't want to purchase a $75,000 electric car. And God forbid that you choose not to wear a mask and inhale your own carbon dioxide all day.
To further separate us, you're labeled as the epitome of an anarchist if you have children in school and want to express your dismay at the School Board for teaching our children race-baiting false history about our country. This is so serious to the Biden White House that the FBI has even been brought in to hunt you down and instruct you not to appear at any further schools lest you be locked up for being a Sedetionist.
Message for the President and White House;
You know the numbers. You are well aware that President Trump carried 70,000,000 plus votes in the last election. Let me, Sir, explain something to you if you happen to read this.
We are a group (some 70M plus) who cherish our freedoms and liberties. Many are Veterans of United States Military service. We are a group who do not like government oppression in our lives. In fact, we don't want much to do with the government, if we are honest. The bulk of us are family folks, Christians (or people of deep faith) who own guns and love our nation.
You, Sir, and your regime are calling us FASCISTS. Why?
Why are you calling us one of the most insulting labels we could be called? Fidel Castro was a fascist, Adolph Hitler was a fascist, as was Stalin, Benito Mussolini, and Francisco Franco. And now you are labeling tens of millions of patriotic Americans as fascists?
We are not the ones who locked down our nation. We are not the ones who ordered us to accept unproven drugs (which were developed on the fly by Big Pharma to earn billions in profits from government funding). We are not the ones who ordered us to wear pieces of paper over our faces for over a year. We are not the ones who are allowing an invasion on our Southern Border.
We are not the ones who have arbitrarily decided that the earth is melting, and we should all purchase government-assisted (in funding) cars that use more fossil fuel to operate than gasoline-powered cars. We are not the ones arbitrarily deciding to spend our tax money to pay off people's loans who cannot seem to get a degree that is lucrative instead of one in basket weaving.
By denying our rights to voice our opinions and disagree with what your party and regime want to institute, you, Sir, are the FASCISTS, not us. By denying our first amendment and attacking our second amendment, then our 4th amendment rights to privacy, then sicking the FBI on us because we voice our opinions at School Board meetings, you, Sir, are the FASCISTS, not us.
Remember this, President Biden, when pointing the finger at someone else, you have four pointing back at yourself. Be careful about telling 70M plus Americans they are fascists. Particularly when they are not.
By Ken Crow
#####