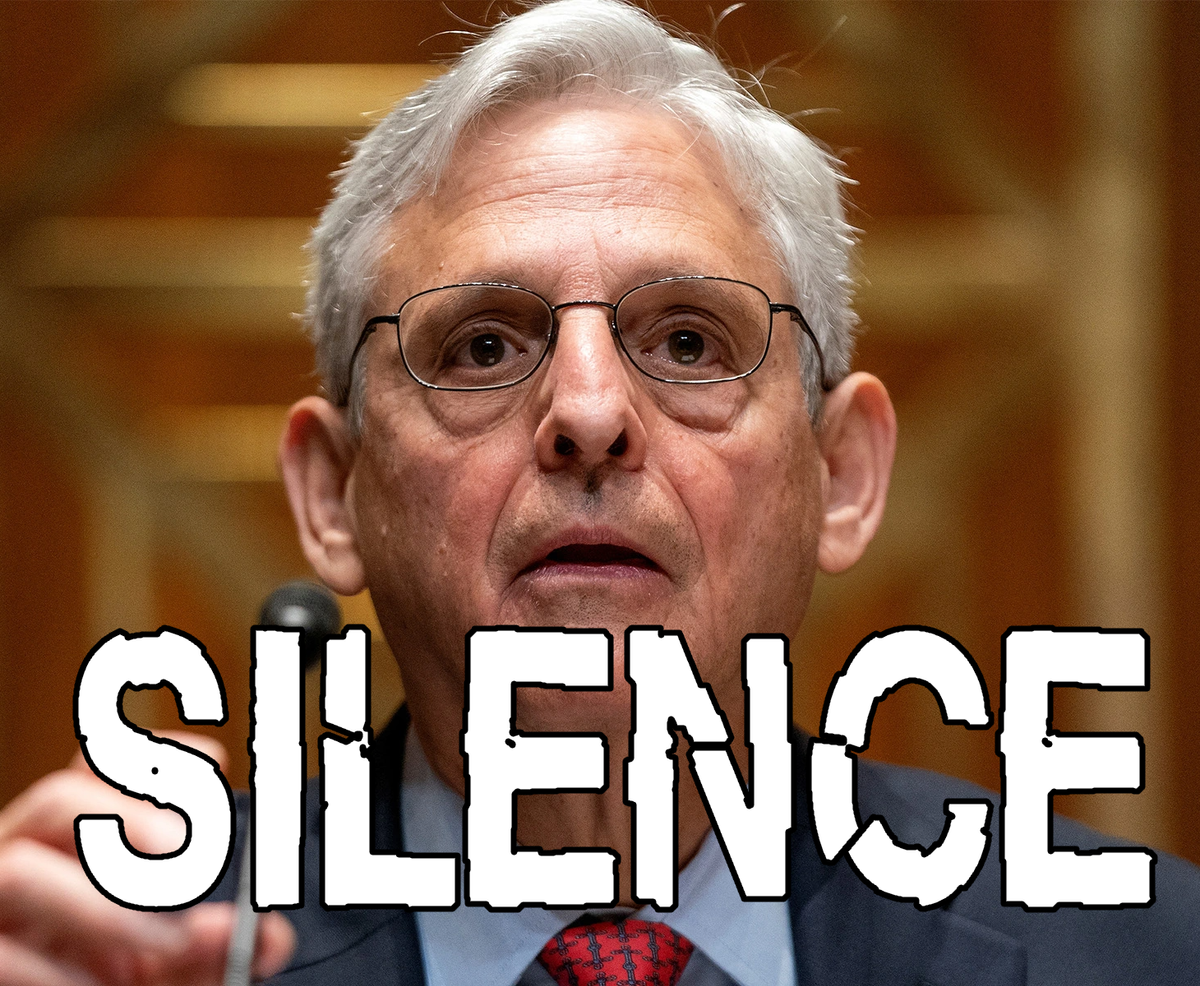 Attorney General Garland Breaks Silence
Three days after a dawn raid on former President Donald Trump's Mar-a-Lago home, Attorney General Merrick Garland finally broke his silence with comments lasting just under five minutes, taking no questions.
Garland said he personally authorized the decision to search the former President's home. He added that the Department did not take that decision lightly. Garland also remarked that the former President could release the warrant and the receipt of inventory confiscated to the public at any time.
The Department of Justice has filed a motion to unseal the warrant.
Likely, the demand for public access to the details of the warrant comes from a deep mistrust of the FBI and the DOJ as a result of the Russian Collusion Hoax and Special Counsel Robert Mueller's investigations into Russian interference in the 2016 election and the Donald Trump Presidential campaign supposedly conspiring with Russia. Mistrust continues to grow as the DOJ has done nothing about the Hunter Biden laptop, which has showcased numerous illegal activities on Hunter Biden's part, in addition to potentially questionable activity implicating the Biden family.
In his remarks, Garland said it was "not possible" to seek a less intrusive way of handling the Mar-a-Lago warrant, however, the looming question is now, why was that not possible? What made it necessary to raid a former President's home at 6:30 in the morning, with Trump not even at home?
What changed from early June of this year, when the Justice Department surveyed Trump's location of sensitive documents in his home and suggested he add a more secure lock to the doors, to which Trump complied, to Monday morning's raid using 30 agents, destroying the said lock, confiscating documents and taking up nearly 10 hours?
In contrast to the aggressive dawn surprise of those 30 agents at a former President's residence, negotiations have always taken place in the past regarding the transfer of documents, some of them highly sensitive or "classified."
The Presidential Records Act was put in place in 1978 in the wake of the Watergate scandal and no President has ever been accused of violating that Act. However, the Records Act is not tied to criminal laws. In this case, it appears that the warrant suggests a criminal act of some sort.
A search warrant under Federal Law requires having evidence of a crime and that the evidence sought in this case is in the premises being searched. So, the burning question is, what crime has been committed?
Nevertheless, many more questions remain; if this was about retrieving classified documents, as has been widely reported, what made this different from Barack Obama refusing to turn over documents or the Clintons walking away from the White House with antiques plus documents, or their National Security Advisor, Sandy Berger shoving classified documents into his socks and pants? There were no dawn raids. Hillary Clinton had a server in her private residence and destroyed 33,000 emails after they were subpoenaed, with no raid. Why?
It's difficult not to make the observation that Trump's home was raided while the January 6th Committee continues to fail to grip the public and suffers a lack of credible sources or evidence implicating the former President. In particular, Liz Cheney has put all of her re-election eggs in the "Get Trump" basket, even involving her former Vice President father, Dick Cheney, in a last-ditch campaign ad that speaks only of Trump and his threat to democracy. She is likely to lose big in the primary next week.
Given the history of this FBI toward Donald Trump, would it be that much of a stretch to consider that they would pursue a highly public and deliberately embarrassing raid at the former President's, and likely future Presidential candidate's, residence? Or that this could be a phishing expedition, under the guise of retaining documents, in order to gain unfettered access to the President's home and the First Lady's closet, and if nothing incriminating could be found, they could potentially plant evidence? One need only recall Operation Crossfire Hurricane to appreciate what these Departments are capable of and to what end.
Former Director of the CIA, John Brennan did not even attempt to hide his vitriol toward President Trump, and once Tweeted, "You remind me of how many corrupt authoritarian leaders abroad behaved before they were deposed. Bob Mueller's name will be revered in the annals of U.S. history; your name will be scorned." That tweet didn't age well. Senate Majority Leader Chuck Schumer once threatened, "You take on the intelligence community — they have six ways from Sunday at getting back at you." That now sounds like a promise.
Confidence in our government is at an all-time low. Confidence in our Justice system is shattered as of Monday. The United States is turning a corner and is perilously close to no longer being set apart from other corrupt, power-hungry elite governments abusing the powerlessness of their citizens; made powerless by design.
The Justice Department wants us to believe that they had no intention of making a scene about the raid. With half a dozen police cars parked outside of Mar-a-Lago at 6:30 AM with the lights going, thirty agents entering the premises allegedly to collect "papers" for the National Archives, supposedly informing Trump's lawyers that they not only had to leave the premises but must stand outside at the edge of the driveway, and purportedly demanding that staff shut off security cameras, this seems anything but subtle or routine.
With all that being said, this is a rapidly developing story and over the next few days details are likely to emerge and speculation and misinformation will hopefully be laid to rest.
All eyes are now on the affidavit, which will more than likely tell the story as to why the raid took place and why it was unavoidable to handle it so aggressively.
Regardless of the outcome, this is an unprecedented event in American history.
By Victoria Armstrong Norcross
#####
Related Videos
Trump Attorney, Christina Bobb, On AG Garland's Lackluster Response To The Mar-a-Largo Raid
Former Asst. U.S. Attorney Reacts To AG Garland's Statement