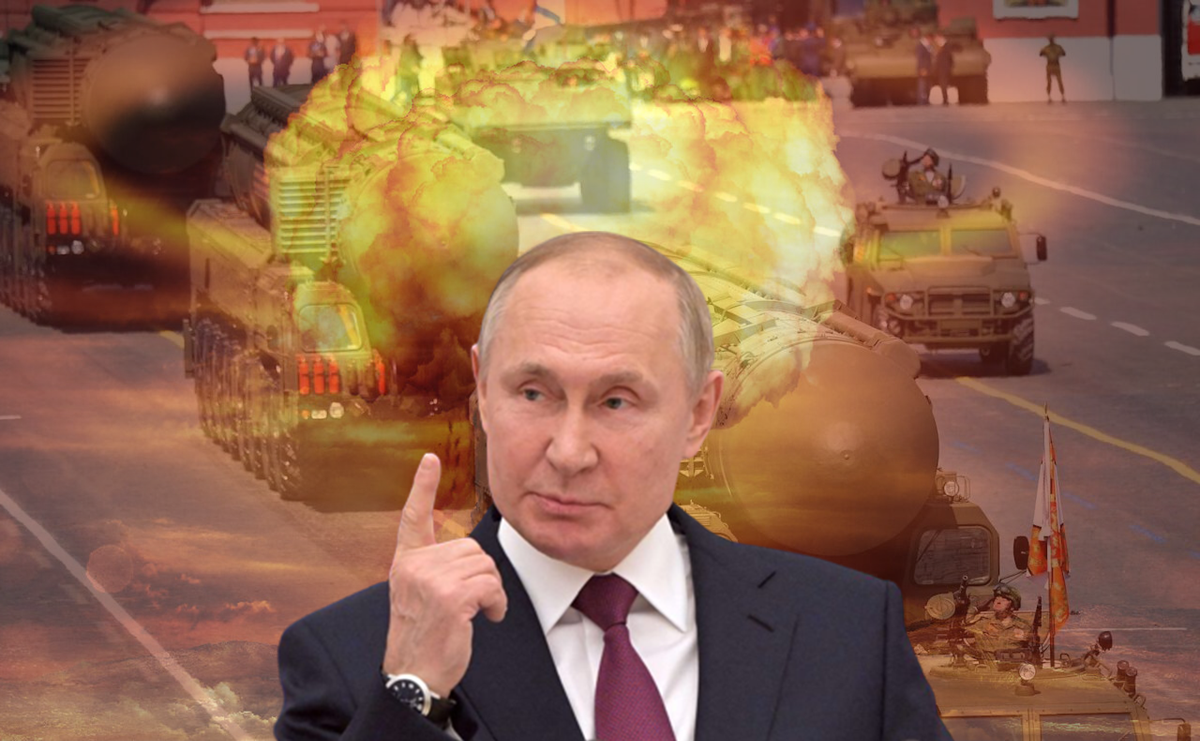 As United States Bolsters NATO-Putin and his War Seem to be Unravelling
Russian President Vladimir Putin's grip on supreme power now seems to be in question as the nuclear rhetoric ramps up in his war against Ukraine.
History tells us that accurate information from Russia is usually tenuous at best. The adjective "sketchy" is probably a better description. However, as the days go by since Putin's now infamous "I'm not blustering and I will use nukes if need be" speech several days ago, word seems to be leaking out that his top Generals will not cooperate and might seek to assassinate the Russian leader if he tries to go nuclear.
Again, obtaining accurate information in Russia is dicey at best.
One aspect that can be verified is that the Russian people are unhappy with this war against many of their relatives in Ukraine. In recent days "since Putin's television address" to his nation is that protests have erupted across Russia. BBC reports that hundreds and possibly thousands of Russian citizens have been arrested for 'anti-war' protests. The protests are in response to Putin "conscripting" (drafting) some 300,000 additional troops to be used as reinforcements in the Ukrainian war.
The Russian citizenry knows full well that this war has been tremendously costly (in terms of lives lost and wounded), and their patience is beginning to wear thin in support of Vladimir Putin's desire to take over Ukraine. NPR is now reporting that some 45,000 Russian soldiers have died, with many more having been maimed and wounded. In addition, the war has begun causing food shortages globally (as Ukraine is one of the world's largest grain producers), and the economy of both nations has been crippled dramatically.
The news that Putin was calling up the 300,000 "draftees" was met with both anger and fear.
It is widely known that Ukraine is the home to many native Russians and the soldiers appear to be very apprehensive about wanting to support Putin's invasion of their cousins, uncles, grandparents, and siblings' home nation. Tens of thousands of Russia's male population are now fleeing Putin's orders. So many are fleeing that the Washington Post is reporting that at airports, any males between the ages of 17-65 are being prohibited from boarding airline flights out of the country.
In addition to Putin's Army not wanting to invade a nation populated with many Russian natives, the soldiers are also fully aware that their task of winning becomes far less probable without air support. With the assistance of NATO nations and the United States, the Ukraine military has been armed with surface-to-air hand-held rocket launchers. Because of these anti-aircraft and tank-killing rocket launchers, Newsweek is reporting that Russia has already lost hundreds of aircraft (both helicopter and fixed wing) and over 1,900 tanks and armored personnel carriers.
As if this latest news for Vladimir Putin is not a headache enough, the United States has recently sent a squadron of F-22s and F-35 fighter aircraft to Poland. The F-22 and F-35 are the most advanced fighter aircraft in the world today. Both are primarily stealth, with the F-22 being extraordinarily nimble and having a top speed of more than Mach-2 and likely faster. The F-35 has a tiny radar imprint and can shoot targets down from some 85 miles away.
Vladimir Putin knows full well that his ground war in Ukraine is severely compromised without the air.
This is likely "why" he is threatening war with NATO and the use of nuclear weapons.
The fact is, people defending their homes and lives are not easy targets. The Ukrainian people are a proud culture, were not bothering anyone, and were viciously attacked by Russia. Should President Zelensky have pleaded to join NATO, likely not. This is principally why Putin invaded in the first place.
With Russia's troops demoralized, the high body count, and a crumbling economy (as has been stated in several publications), this might very well be Vladimir Putin's "Little Big-Horn or Waterloo."
By Ken Crow
#####