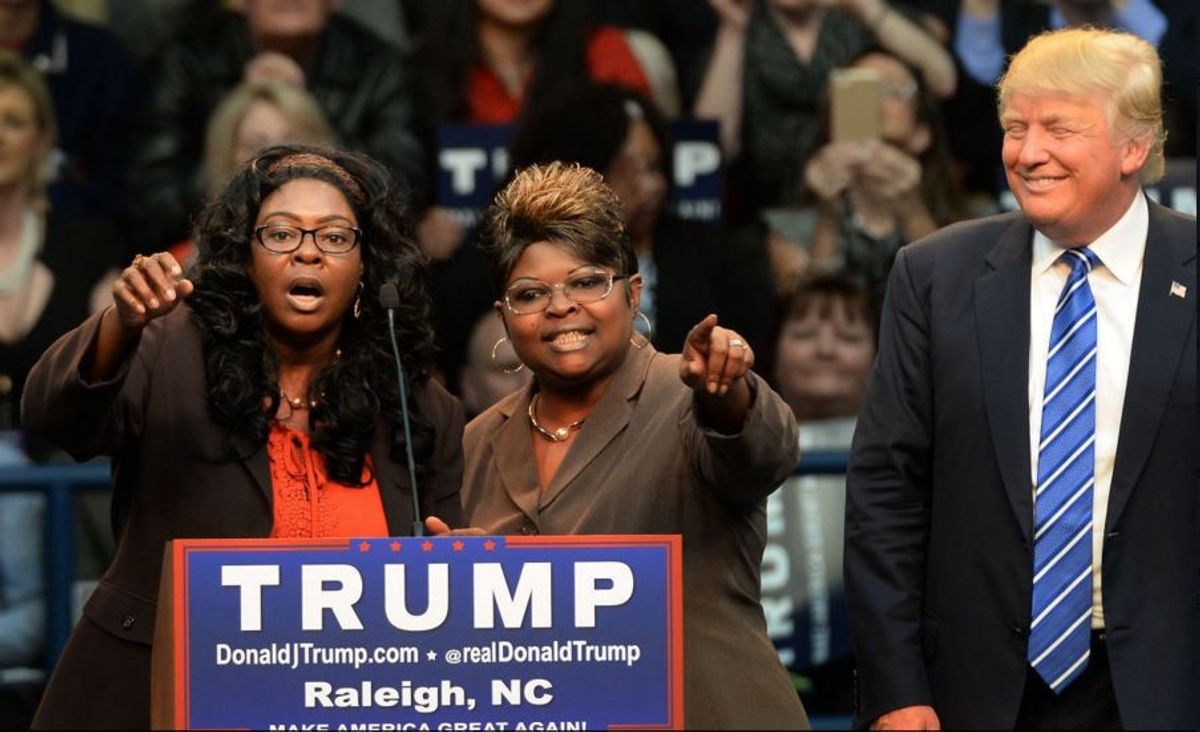 America Lost a Political Original
Seldom have "average American citizens" ever captured the fascination and admiration continually as the sister duo of Diamond and Silk did and does.
Unfortunately, on Monday, half the 'dynamic duo' was silenced.
Lynnette Hardaway (Diamond-51) passed peacefully with her sister Rochelle Richardson (Silk) at her bedside in North Carolina.
Diamond and Silk first burst onto the public scene with their YouTube channel back in the 2015-16 Presidential race with their genuine support of then-candidate Donald Trump. It was long after they had published videos touting Trump (with their unique Southern charm and humor) that they caught the attention of Trump.
Their admission of being lifelong Democrats and converting to Republicans to support Trump immediately made them vlogging stars.
Trump meets Diamond and Silk for the first time.
Lynnette and Rochelle quickly became fixtures (and spokespersons unofficially for the Black Community) on the campaign trail for Candidate Trump. Their Southern Humor and schtick became almost household known, and their popularity exploded virtually overnight. Their ability to put complicated political jargon into everyday "Joe" speak was one of their most popular assets and traits.
President Trump's post on Truth Social
Diamond and Silk became so popular through the Trump years that they became regulars on Fox News as (contributors) and amassed a following on Twitter of over 1,9 million followers. Combine this with the 350 plus thousand followers on YouTube, and there was a true "movement" these two ladies had created.

Diamond and Silk's Twitter Page
One of Diamond and Silk's biggest fans, Dr. Alveda King (the niece of Rev. Martin Luther King), would ultimately become one of their biggest supporters. Dr. King is widely known as an Evangelist (much like her late Uncle), and Diamond and Silk are both devoted Christians. Naturally, they all became fast friends. Today, King mourns the loss of Diamond, as does the rest of the conservative movement across our nation.
Real America's Voice would like to offer their heartfelt condolences to the family of Lynnette (aka; Diamond). Like millions of others today, we mourn the loss of this passionate, loving, decent, kind, and warm lady. Her candor and humor will be missed by not just the political world but the world in general. May you rest in peace, Diamond.


By Ken Crow, RAV Contributor.
#####
JOIN US ON RUMBLE LIVE NOW!